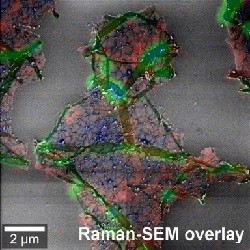 Tescan Orsay Holding, a multinational company experienced in charged particle optics, and Witec GmbH, a specialist in Raman and scanning probe microscopy, are jointly launching Raman Imaging and Scanning Electron (RISE) Microscope at Analytica 2014, which takes place this week at the Messe München in Munich, Germany.
This new correlative technique combines confocal RISE microscopy with one integrated microscope system. This combination provides advantages for the microscope user in comprehensive sample characterisation: electron microscopy is a technique for visualising the sample surface structures in the nanometre (nm) range; confocal Raman imaging is an established spectroscopic method used for the detection of chemical and molecular components of a sample. It can also generate 2D and 3D images and depth profiles to visualise the distribution of molecular compounds within a sample. The RISE Microscope enables the acquisition of scanning electron microscopy (SEM) and Raman images from the same sample area and the correlation of ultra-structural and chemical information with one microscope system.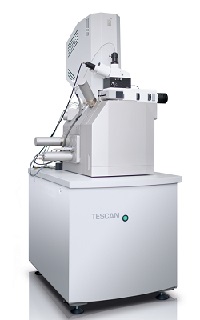 The correlative RISE Microscope combines a standalone electron microscope and confocal Raman microscope. Through RISE Microscopy, ultra-structural and molecular images of a sample can be generated and correlated with one instrument.
Both analytical methods are fully integrated into the RISE Microscope. Between the different measurements, a precise scan stage automatically transfers the sample inside the microscope's vacuum chamber and repositions it. The integrated RISE software carries out the required parameter adjustments and instrument alignments. The acquired results can then be correlated and the Raman and SEM images overlaid.
The RISE Microscope provides all functions and features of a stand-alone SEM and a confocal Raman microscope. Both SEM and Raman are high-resolution imaging techniques with sub-nm and diffraction limited 200nm to 300nm resolution, respectively. In Raman imaging mode the sample can be scanned through a range of 250 micrometres (µm) × 250µm × 250µm. According to the companies, RISE Microscopy pairs ease-of-use with analysing benefits and is, therefore, suited to a large variety of applications such as nanotechnology, materials science and life science.

Left: Electron microscopic image of a graphene sample. Middle: Colour-coded Raman image of the same sample area. The colours display the graphene layers and wrinkles. Right: Overlay of the ultra-structural electron microscopic image and the chemical Raman image (this is also the image shown at the top of the page).
Witec and Tescan have jointly developed the RISE Microscope within the framework of the UnivSEM project. UnivSEM receives funding from the European Union Seventh Framework Program (FP7/2007-2013) under grant agreement number 280566. Companies, universities and research institutes from the Czech Republic, Germany and Switzerland contribute to the project. This EU project supports the development of supplementary analysis tools for SEMs.
Tescan and Witec arranged worldwide sales and after-sales cooperation for the RISE Microscope to take advantage of the synergy effects of the two companies.