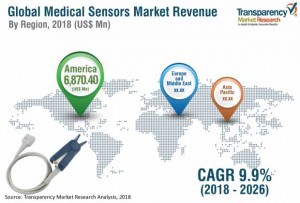 The growth in medical sensors is due to the fact that the past decade has been one of digital medicine innovation. With increasing use of digital technologies to provide improved health care, facilities have augmented electronic devices that help in collection of medical data. These devices include smart watches, smartphones and other similar devices. The demand for medical sensors has also increased at a rapid rate. Moreover, rising government initiatives for increasing adoption of mHealth (mobile health) products and high demand for Internet of Things (IoT) in the medical sector has boosted demand in the global medical sensors market.
Transparency Market Research (TMR) has published a new report titled, "Medical Sensors Market - Global Industry Analysis, Size, Share, Growth, Trends, and Forecast, 2018–2026". According to the report, the global medical sensors market is projected to reach US$ 27.7 Bn by 2026 at a CAGR of 9.9% from 2018 to 2026
Use of medical sensors has also increased due to increasing hospital-acquired infections (HAIS). As patients staying at the hospital for longer period of time come across various infections that can deteriorate their health condition, in such cases medical sensors are highly useful. Additionally, growing demand for personalization of healthcare systems, along with booming use of wearable devices and diseases detecting devices are other key factors triggering growth in the global medical sensors market. Scope of medical sensors market is expected to widen with emerging application of the capacitive sensors in the field of nanotechnology. However, elongated product approval, strict regulations, and security concerns related with these use of medical sensors might challenge the growth in this market.
Widening application of medical sensors in diagnostics, therapeutics, monitoring, wellness and fitness, and others has also come in as a positive aggregator for medical sensors. For example, in diagnostics, medical sensors are used in analytical equipment diagnostics and imaging diagnostics. In addition, increasing demand for self-diagnosis and to keep a constant check on health especially people undergoing any specific health issues, medical sensors are very useful. Thus, keeping in mind all the pros and cons and evaluating each systemically, the overall growth in the global medical sensors market is expected to rise at significant rate.