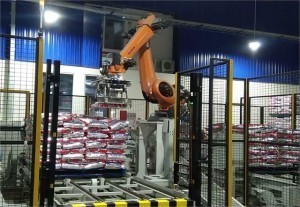 Verified Market Research recently published a report, "Artificial Intelligence (AI) Robots Market" By Robot Type (Service Robots, Industrial Robots), By Technology (Natural Language Processing, Machine Learning), By End-Use Industry (Military And Defense, Public Relations), and By Geography.
Artificial Intelligence (AI) Robots Market size was valued at USD 4.1 Billion in 2020 and is projected to reach USD 28.5 Billion by 2028, growing at a CAGR of 27.2% from 2021 to 2028, according to the most recent study from Verified Market Research.
Global Artificial Intelligence (AI) Robots Market Overview
Key factors like the high adoption of robots for personal use like fellowship and amusement and support from governments worldwide to develop fashionable technologies are anticipated to drive the global Artificial Intelligence (AI) Robots Market in the forecasted period. On the contrary, reluctance to adopt new technologies and also the absence of standardized rules to stop risks related to networked and autonomous robots may be several of the main restraining factors within the growth of this market within the returning years. AI robots are extremely technical and advanced and need special training and good professionals to work these robots in varied places.
However, there is a shortage of skills and experience among professionals concerning the operating and operations of AI robots will limit the adoption of those robots across varied business domains. Besides that, the absence of correct rules in this business would limit its demand around the world. Companies in industries where labor prices are the best prices are progressively adopting AI robots. firms in specialized fields that require prime talent are expected to adopt AI-integrated robots. The emergence of recent tools for the analysis of huge information is additionally expected to contribute to promoting growth for AI in robots going forward.
Key Developments
In May 2020, Hanson Robotics and CereProc collaborated on an innovative AI project, Sophia. Sophia, using CereProc's singing TTS system, is the first robot to sing a duet with a human on the Tonight Show, starring Jimmy Fallon. This collaborative AI project gives Sophia an enhanced AI-based synthetic voice, with the ability to deliver more dramatic and entertaining performances in real-time while enabling her to express humor, suspense, excitement, and the odd cheeky remark.
Key Players
The "Global Artificial Intelligence (AI) Robots Market" study report will provide a valuable insight with an emphasis on the global market. The major players in the market are
NVIDIA (US)
Intel (US)
IBM (US)
Microsoft (US)
Xilinx (US)
Alphabet (US)
Softbank (Japan)
Hanson Robotics (China)
Amazon (US)
Blue Frog Robotics (France)
Promobot (Russia)
AIBrain (US)