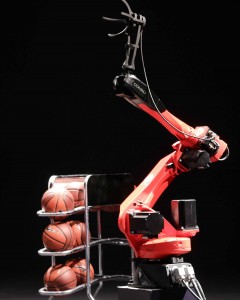 Comau will take part in the 2015 edition of Automate. One of its products on display is Racer 999, the new 6-axis articulated robot with a reach measuring less than a meter (999 mm) and a load capacity of up to 10 kg; features that make it perfect for fast-paced handling operations in small spaces.
Together with Racer 999, its older brother Racer 7-1.4 will be displayed in booth 160. It will engage again in a basketball contest, confirming the worldwide success of the video in which it challenges Marco Belinelli, the only Italian basketball player to win the three-point field goal competition at the American All Star Game, and the 2014 NBA championship with the San Antonio Spurs.
In a special area of the stand, visitors will have the chance to challenge the robot in an exciting three-point field goal competition. This unique application emphasizes the potential of Comau's technology that, combined with engineering skills and creativity, characterize the company.
Comau will pair these two small-size robots with another two machines in order to show the potential of the company in all applications and manufacturing sectors within the US market.
On display visitors can find the new Smart NJ 130 Pressbooster in its 'on shelf' version, a special machine for the tending of sheet metal stamping presses, as well as the Smart PAL 180, which is specifically intended for palletizing and has a load capacity of 180 kg and a horizontal reach of 3,100 mm. The Smart PAL, among other things, is also available in a 'Robot Arm' mode, for easier system integration.
The Robot Arm configuration is one of the main innovations introduced by Comau on the international market. Through the collaboration with important worldwide partners in industrial automation, Comau robots can now be managed with non-proprietary controllers, a solution that simplifies set-up and production start-up processes, and makes it easier to train the operators who will manage the line.