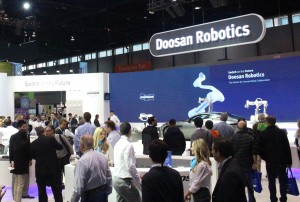 Doosan Robotics is launching the world's most versatile lineup of collaborative robots (cobots) in North America at Automate 2019, following their successful launch and reception in European markets. Engineered to meet the needs of today's automation market, Doosan cobots have been particularly popular in France and Italy due to their strong capabilities and intuitive and easy application.
From April 8 to 11, Doosan will be showcasing its long-awaited cobots at the region's largest automation solutions event, Automate 2019, in Chicago.
With its parent company Doosan Group's heritage of engineering excellence in Korea, Doosan Robotics has created the next generation of cobots and is now rolling out its flagship lineup in the North American market. These four cobot models enable customers to experience first-hand safe, versatile and easy-to-use automation. Doosan's ergonomically designed cobots can serve a wide variety of customer needs, offering a broad range of capabilities – a working radius of 35.4 to 66.9 inches (900 to 1,700 millimeters) and a load capacity of 13.2 to 33.1 pounds (6 to 15 kilograms).
Doosan cobots are equipped with their own proprietary torque sensors on all six joints, providing the industry's best collision sensitivity. The sophisticated technology of the torque sensors also enables these robots to be used in diverse applications that utilize advanced force and compliance control algorithms.
Powered by a teach pendant, which is a human-centered touchscreen control embedded with Doosan's award-winning software, Doosan cobots are extremely intuitive to teach and easy to operate, enabling customers to take full control without having to write complicated programming scripts.
At the event, Doosan will provide detailed presentations every half-hour explaining the characteristics and competitive advantages of Doosan robots, as well as how they are deployed in real life situations. Visitors will also see practical applications of Doosan cobots whenever they stop by the booth. The seven demonstration areas will cover three key benefits of Doosan cobots: applications, user-friendly experience and accessories.
Applications: To showcase the full range of their capabilities, Doosan cobots will be aligned to track a conveyer, assemble gears and arrange letters to spell words as programmed. The main demonstration will be the automotive composite solutions, where six cobots will collaborate with two human workers to execute fine motor activities including inspection, assembly and placement of parts on an actual automobile.
User-friendly Experience (Easy-to-Use): Another key feature of Doosan cobots is their ultra-intuitive user experience, led by their award-winning software that allows users easy operation of all features. Equipped with this easy-to-use interface, visitors can use and control cobots and provide direction through an effortless teaching process.
Accessories: The demos will highlight a wide range of accessories that empower the Doosan cobot experience, maximizing performance and production efficiency. These accessories include Mobile Base, a solution enabling flexible relocation and movement equipped with a direct teaching unit and Smart Vision Module System. The Smart Vision Module System allows cobots to inspect the surrounding area using mounted cameras.
Doosan will be at McCormick Place Booth #6573 for the duration of the event. Visitors will be able to interact with all of Doosan Robotics' products and experience their cobots' easy and intuitive operation and effortless teaching first-hand. One of the cobots will also carry out a lucky draw where participants can win special Major League Baseball (MLB) merchandise.