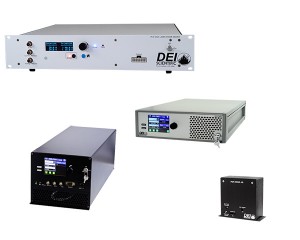 Berkeley Nucleonics announced that it has acquired Directed Energy's family of high current and high voltage products.
The Directed Energy product lines include: High voltage pulse generator instruments and modules designed for high voltage and precision applications such as Time-of-Flight, Q-Switches, Pockels Cells, acoustic transducers, microchannel plates, photomultiplier tubes, and image intensifiers. These instruments are designed for research & development, characterization, and testing of dielectrics as well as many other high voltage pulsed applications. The product family also includes laser diode drivers designed for high power and precision applications for pulsed, Quasi-CW (QCW), and Continuous Wave (CW) operation, optimized for research & development, characterization, testing and OEM applications of laser diodes.
Berkeley Nucleonics will provide sales, service and technical support to Directed Energy Inc. customers and manufacturer's representatives.
Berkeley Nucleonics, founded in 1963, has a long history in test and measurement instrumentation and offers a wide range of signal sources. The company is expanding its family of products with the addition of Directed Energy's highly regarded instrumentation and continue to offer both standard and custom versions of the current product line.