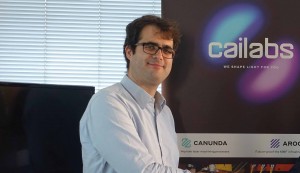 In this article, Jose Pozo, EPIC's CTO talks with Jean-Francois Morizur, CEO of Cailabs, a leading designer and producer of optical components and sub-systems based on beam shaping in fields such as spatial multiplexing for telecommunication and laser manufacturing.
Background
In 2004, Jean-Francois entered the Ecole Normale Supérieure in Paris. Previously, his main focus had been on mathematics, but wanting something more applied, he decided to continue his studies with an MSc in Physics. Then, having acquired an interest in quantum optics, he did a PhD on quantum protocols with transverse spatial modes at the Australian National University and Université Pierre et Marie Curie (Paris VI).
His main line of research had been on the feasibility of building a quantum computer using nonlinear crystals with single photon detection and special modes, but upon graduation in 2011, he decided to set aside this expertise and join the Boston Consulting Group in Paris (BCG). As he says: "Like all PhDs, I had become quite specialized in a specific topic. I knew I didn't want to continue in academia and I wanted to broaden my horizon on business in general. It was an amazing and enriching experience, on multiple levels".
But it didn't last that long, as 12 months later, he received a call from Nicolas Treps, his former PhD supervisor, to leverage some of his PhD's results and patent to provide specific innovative components for Alcatel. Jean-Francois agreed on condition they aimed at setting up a company to go beyond this single project, and in May 2013, after 9 months incubating within AgoraNov and the Université Pierre et Marie Curie, Cailabs was born.
Cailabs
The first challenge of Cailabs, even before its birth, was to complement the founding team. Nicolas Treps introduced Jean-François to Guillaume Labroille, another PhD in optics with exceptional technical talent and a strong entrepreneurial drive. Guillaume accepted to join as CTO, which allowed Jean-François to focus on the business development side as CEO. The next task was to raise the capital needed to equip their start-up to run after incubation, while simultaneously developing a prototype 3-mode multiplexer for Alcatel. The next problem was to find a location outside Paris with enough space for the lab and future growth. They finally decided on Rennes, a mid-size city in NW France, which had high speed rail link to Paris and where they would be able to attract and recruit people with the required technical and business expertise. In 2020, Rennes is ranked #1 in France in city attractivity.
Company growth
By 2014, Cailabs had a minimum viable product for space division multiplexing that could be shipped across the world. Although it enabled two world records in fiber capacity by KDDI Labs, but it quickly became clear that the space division multiplexing market would take too long to mature to allow the budding start-up to survive. Fortunately, Cailabs had built a specific expertise around spatial modes of light, and its usefulness was not limited to the field of space division multiplexing. Jean-Francois and the Cailabs team quickly realised that broadening its application field would require a different approach – one focused on solving their customers' problems rather than just saying what they could offer. This required completely changing the way the company reached its clients. Cailabs set up lines of products based more on value proposition than on technical specifications, and built relationships with key clients to design unique, tailored products.
Today Cailabs is a global leader in complex light shaping. Its technology is currently protected by 19 patent families. Its innovative optical components are used in a variety of sectors and have contributed to several world records (notably the optical fiber bandwidth record achieved by the Japanese operator KDDI).
As Francois explains: "One of the things I learned at BCG is the value of precise communication and of talking to customers in their own language. For example, at the time we were using BlackBerry phones, and the goal was always to convey a summary of a problem or solution that would fit on a BlackBerry screen".
This approach paid off because over the following six years, Cailabs's workforce grew to 58 and the company developed an impressive range of innovative solutions structured around four main value propositions: upgrading LAN infrastructures, improving industrial laser processes, enabling atmospheric laser communication and solving custom problems in demanding environments. Their range of application fields is equally impressive, ranging from aeronautics, to telecommunications networks, space, defence, local networks and laser material processing.
During this period, the company won several awards, most notably the EY Born Global Award, the Pass FrenchTech prize for growth, and the DeepTech4Good Industry 4.0 award for technological leadership. In 2016, Jean-Francois himself was included as a top young entrepreneur in a Forbes 30-under-30 list.
The future
Cailabs' local network and industrial laser product lines are expected to grow handsomely in the next few years, with a solid distribution network significantly expanded during the Covid crisis.
In parallel, Cailabs' activity in atmospheric laser communication will continue growing, mainly supported by confidential contracts, and Cailabs will hopefully present ground-breaking demonstrators in the near future.
Cailabs' "custom" activity will remain its innovation engine, seeking and developing new value propositions in partnerships with its clients to expand its portfolio.
If you could start again, what things would you do differently?
"When I started, I was really disappointed when things didn't work out. With maturity, I know uncertainty is part of the game, and that sometimes you win and sometimes you lose. What's important is to keep playing with the same focus. So, if I started again, I'd try to be less hard on myself".
"I've also come to realise that when you hire someone, you should never negotiate on company culture. The culture inside an organisation is both a strength and a constraint: it's a strength because with the right culture you can have an amazing team, do amazing stuff together and solve huge problems. But it's also a constraint because it can only work by recruiting people fundamentally aligned with the company aims and values. Starting again, I'd keep that constantly in mind in my recruitment process".
What words of wisdom do you have for the next generation of entrepreneurs?
"First, and I am not sure it is a wisdom to be honest, I am deeply optimistic when thinking about technology. I believe that improving technical capability is actually good, and it is something I want to be part of. This fuels my passion for growing Cailabs, so that we can provide even more solutions. It is a passion that gives me energy, which is quite needed to grow a business."
"Second, if you have a scientific background, you need to be able to use and apply the same critical thinking you used in your studies to your business. This will give you the strength to be honest with yourself and your partners to make difficult decisions".
"Third, don't leave it up to your customer to figure out how they can use your technology. As the person with perfect knowledge of what you do, it's your responsibility to learn and understand their problem to as to convey your message concisely and in a language they can understand"
Written by Jose Pozo, Director of Technology and Innovation at EPIC (European Photonics Industry Consortium).