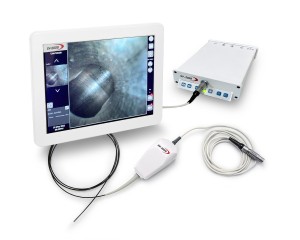 Canon Medical Systems USA, Inc., Video Sensing Division, announces the chip-on-tip video borescope camera for inspection applications in extremely tight spaces. The new SV-2000 provides full-color, high-resolution video or still image capture. Rugged and flexible, the CMOS video scope is offered in three configurations: 1.6 mm Ø x 1.9m, 400 x 400 resolution; 1.05 mm Ø x 1.2m, 200 x 200 resolution; and 0.89 mm Ø x 1.2m, 400 x 400 resolution. Each video scope features 120° field of view and an integrated LED light for illumination within the flexible shaft. They are water resistant (IPX7 rated) for disinfection tasks or other uses in wet environments.
There are two camera control unit (CCU) options, both with HDMI® and USB 3.0 outputs. The tablet-console features the proprietary SV-2000 interface with an integrated touchscreen display and on-board recording. The second CCU option uses an external display, as well as a connection to a PC (not included). Both options include recording to USB media.
The SV-2000 scopes offer plug-and-play with either the tablet-console or the CCU and the scope handles have ¼ x 20 thread mount for easy integration. Other system features include manual and automatic brightness control, white balance and calibration functions, firmware updates via USB, and multi-sensor compatibility.
Canon Medical, VSD's new SV-2000 is ideal for a variety of inspection applications, including catheters, tooling, machined parts, and assembly process monitoring.