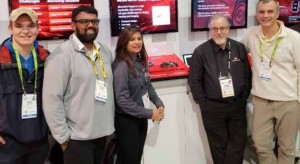 Mirrorcle Technologies, the manufacturer of MEMS-based optical beam-steering (scanning) mirrors and related products presents application examples at the Consumer Electronics Show (CES) 2019 in Las Vegas.
Photo: Mirrorcle CES delegation joins the Microchip team at Microchip Technology's CES 2019 booth MP26166 to demonstrate world-leading MEMS mirrors-based laser projection systems. From Right to Left - Dr. Veljko Milanovic, Donald Humbert (Microchip), Wafa Iqbal (Microchip), Daniel Lovell, Abhishek Kasturi.
The company's CEO, Dr. Veljko Milanovic and staff join friends at the Microchip booth where visitors can experience Mirrorcle's MEMS mirror-based systems in action. For example, the company's "Programmable Light System" or "PLS" is a versatile dynamic solid-state lighting (DSSL) white light vector graphics projector. It is slated for dynamic automotive headlights and for a variety of possible programmable lighting solutions for commercial or private spaces.
Also on display at CES are multiple versions of the 'Playzer' – a programmable pocket-sized laser projector which is available with a variety of different colors (wavelengths). Playzer implements Mirrorcle Vector Graphics Laser Projection Architecture, e.g. in bright outdoor signage solutions on or around a vehicle.
Mirrorcle Vector Graphics Laser Projection Architecture tailored for automotive use is Showcased
Mirrorcle unveiled its Vector Graphics Laser Projection Architecture at CES2019, recently tailored to a number of different automotive applications both inspired and demanded by automotive sector customers. These include dynamic headlights, head-up ('HUD') and other displays, and courtesy lighting around the (parked) vehicle. The Architecture utilizes fast point-to-point laser projection to maximize brightness and contrast of the displayed content. Optimized vector graphics or glyphs convey information and entertain the viewer, but also have the lowest intrusion and attention requirement from viewers and are a particularly good match for automotive uses - especially in active driving cases. Comparing Playzer to other display technologies, such as a standard video PicoProjectors, shows that the Playzer can achieve 10X higher levels of brightness and contrast. This high brightness and high contrast ratio of the displayed content makes Playzer suitable for outdoor and daylight conditions – a requirement in automotive display applications. Mirrorcle's solutions for these emerging needs all employ the complete system-level stack up of optical and electronics hardware, firmware, and software. The hardware includes the Scan Modules and Controllers which are supported by a chipset from Microchip Technology. Compact Scan Modules incorporate laser sources, laser beam shaping and wide-angle projection optics and the fast gimbal-less dual-axis MEMS mirror into a single athermalized housing. Within this housing, the scan module can be customized with different laser powers, wavelengths or MEMS mirrors with desired performance to fit any application. Demos shown at CES include the Programmable Light Source (PLS) and a number of Playzers with different wavelengths, all battery powered and all capable of USB-based control or wireless control from Android devices.
Controlling the MEMS mirror and lasers is the Microchip PIC32MZ MCU-based controller and Microchip high-voltage ICs-supported smart MEMS driver. When integrated together, it provides high voltage for MEMS driving, capability of mirror position and temperature sense, 1- to 8-bit analog control of the one or three lasers (for RGB), inputs and outputs to host systems via USB, CAN bus or wirelessly, and on-board Flash memory for stand-alone operation with pre-stored graphics. Alongside the MEMS Mirror and its supporting hardware, Mirrorcle provides application-specific implementation of the MEMS mirror through its proprietary firmware and extensive software API. Mirrorcle software is available on multiple platforms and with multiple languages to allow engineers and developers complete control of the MEMS Mirrors staggering speed, accuracy, and repeatability. This API is tailored to the Vector Graphics Laser Projection Architecture, resulting in high brightness and contrast content for any display solution.
Mirrorcle-based products on display throughout CES 2019
While the Mirrorcle demo-systems attract much attention at Microchip's CES booth, multiple stationary and mobile solutions showcased at CES by other companies are 'Powered by Mirrorcle'. Many of these solutions are quite new and the sharing of information is restricted, and in many cases the use of MEMS mirrors is not obvious or apparent.