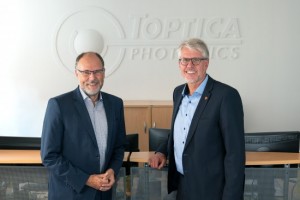 As of January 10, 2020, Dr. Thomas Weber will step back from the Executive Board of TOPTICA Photonics AG to the Supervisory Board. After 22 years with the company, the long-standing founding board member (Operations and Finance) is retiring from his leadership role in the company, which continues to grow strongly.
On September 21, 2020, the Supervisory Board of TOPTICA Photonics AG bade farewell to Dr. Thomas Weber from his role as Management Board member (Finance & Operations). After more than 22 years, he is leaving TOPTICA and retiring.

Only last year, Dr. Weber received the award for a BAVARIA BEST 50 company from Bavaria's State Minister of Economic Affairs, Regional Development and Energy, Mr. Hubert Aiwanger.
With Dr. Thomas Weber's move to the Supervisory Board, the Management Board now consists of Dr. Thomas Renner (Sales & Operations) and Dr. Wilhelm Kaenders (Technology).
Additional change in the Supervisory Board
Prof. Claus Zimmermann (University of Tübingen), who was one of the inspirations for the company's foundation and has served as a member of the supervisory board since TOPTICA's transformation into a public limited company in 2001, was given a farewell in his last supervisory board meeting with a gold-plated laser (DL100), which is the most successful tunable diode laser and the cornerstone of TOPTICA's current market position.
The current Supervisory Board is now casted as follows: Simon Grimminger, Dr. Dieter Schenk (Chairman), Dr. Thomas Weber and Dr. Martin Hohla.