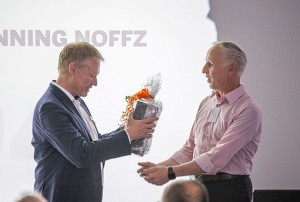 One year ago Silicon Software GmbH was acquired by Basler AG. Over the past twelve months, we have pushed ahead with the integration of both companies and identified synergies and joint strategic areas. This included both strategic and personnel repositioning in order to exploit the potential of the merger more successfully.
In this context, a decision has been made regarding the company management. Dr. Klaus-Henning Noffz, founder and managing director of Silicon Software GmbH for 22 years, many of them together with Dr. Ralf Lay, will relinquish this task and assume strategic tasks for the Basler Group within Basler AG.
Dr. Dietmar Ley, CEO of Basler AG, will assume the vacant management position with immediate effect.Dr. Dietmar Ley, CEO of Basler AG, will take over the management of Silicon Software GmbH until further notice. Dr. Klaus-Henning Noffz, former Managing Director of Silicon Software GmbH, will assume strategic responsibilities at Basler AG with immediate effect. The ceremonial handover took place at this year's International Sales Meeting in the presence of our distribution partners.