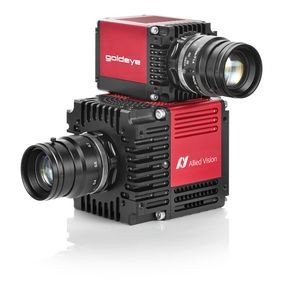 From June 6 – 7, 2018, Allied Vision is showcasing new Goldeye SWIR camera models at the Conference on Hyperspectral Imaging in Industry (CHII) in Graz. The recently released Goldeye G/CL-033 TECless and the Goldeye G/CL-008 Cool TEC1 are taking the center stage at booth #21 at the Congress Graz.
In addition to the infrared camera Allied Vision is presenting its 1 product line, especially developed for embedded vision applications. While the Goldeye cameras are the perfect choice for demanding near infrared (NIR) and short-wave infrared (SWIR) applications, the camera series of the 1 product line meet all requirements for the use in unmanned aerial and autonomous vehicles.
Goldeye G/CL-033 TECless for temperature-stable environments
For the first time, Allied Vision is releasing a tecless InGaAs camera (without thermo-electric cooling element). With an excellent price-performance ratio for a VGA InGaAs camera, the Goldeye G/CL-033 TECless is the perfect choice for demanding, cost-sensitive short-wave infrared applications. In temperature-stable environments, the camera delivers high quality images with outstanding low noise performance (low read-out noise of 32 electrons in high gain mode).
Goldeye G/CL-008 Cool TEC1 for high temperature fluctuations
The second new model, the Goldeye G/CL-008 Cool TEC1, is an affordable InGaAs SWIR camera for the use under demanding conditions with high temperature fluctuations. To enable low-noise imaging in the spectral range from 900 nm to 1,700 nm, the camera is equipped with a nitrogen filled cooling chamber which encloses the sensor including the single-stage thermo-electric cooler (TEC1). This avoids condensation on the sensor and makes the camera especially useful in warm and humid environments with a high risk of condensation.
The Allied Vision 1 Product Line: A new camera for embedded vision
The 1 product line combines the performance of a machine vision camera and the size, weight, power consumption, and price of an embedded camera. The camera is very compact and lightweight and available as a bare board version. All that matters when building an image-processing system into a robot or a drone.
The first cameras building on the new platform are the Allied Vision 130 and 140 series. Both series are available with MIPI CSI-2 and USB3 Vision interface and a large choice of sensors. They are both powered by the ALVIUM technology.
Allied Vision at the Conference on Hyperspectral Imaging in Industry
• Exhibition: Allied Vision Booth: #21
• Presentation at the Collaboration Forum:
Wednesday, June 6, 2018 9:00 - 9:10
"The influence of temperature on image quality in NIR / SWIR cameras used in imaging spectrometers"
Gion-Pitschen Gross