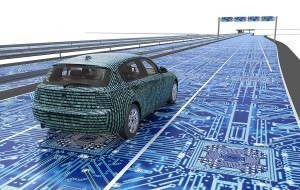 Verified Market Research recently published a report, "Connected Car Market by Service (Connected Services, Safety & Security, Autonomous Driving), by Form (Embedded, Tethered, Integrated) , by Network (Dedicated Short Range Communication (DSRC), Cellular), Geography". According to Verified Market Research, the Global Connected Car Market was valued at USD 72.68 Billion in 2019 and is projected to reach USD 215.23 Billion by 2027, growing at a CAGR of 14.56 % from 2020 to 2027.
Global connected car market overview
Governments in various countries are focusing on mandating various advanced driver-assistance systems (ADAS) and safety features. Thus, the increase in ADAS features in cars is driving the connected car market as it ensures enhanced levels of safety. The rising demand for connectivity solutions, an increase in dependency on technology, and an upsurge in the tech-savvy population are the other key factors that contributing toward the growth of the connected car market. Moreover, technological advancements, an increase in the production of vehicles, and an increase in demand for luxury & comfort in vehicles are expected to support the growth of the market. Nowadays, automakers are following new vehicle safety norms to encourage the safety of the vehicle and to make them more secure from hacking and malfunctioning. This, in turn, is also likely to foster the demand for connected car systems.
The following trends are reinforcing the shift towards a fully developed connected car industry. New technological innovation in the field of the network is accelerating at a fast rate. High-speed computers help make the car aware of surroundings, which can transform maneuvering a self-driving vehicle into an increasing reality. The Internet of Things (IoT) provides mobile services in the car with high-speed internet. This feature provides real-time traffic control, interaction with the car manufacturer service for remote diagnostics, and enhanced company logistics automation. Furthermore, the increase in demand for lightweight suspension systems and the development of technically advanced suspension systems are expected to provide a favorable opportunity for the growth of the market.
The major players in his market are Bosch, Continental AG, Delphi Technologies PLC, DENSO Corporation, Harman International Industries, Inc., Infineon Technologies AG, NXP Semiconductors N.V., Toyota Motor Corporation, Valeo, and ZF Friedrichshafen AG.