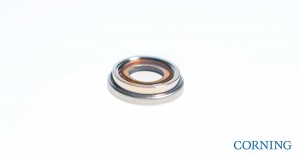 Corning Varioptic Lenses today announced the A-58N variable focus liquid lens, designed for applications requiring a large clear aperture with large dynamic range and high optical quality within a small form factor.
The A-58N lens is designed specifically for variable focus products needing a large clear aperture and high optical quality; such as optical instruments for life sciences, ophthalmology, scientific instruments, and microscopes. The new lens features 15 diopters of dynamic range, 7 cm focus ability, and offers the same low power consumption, high shock resistance, and fast-focus ability that have led to the success of Varioptic's A-Series variable focus lenses.
The A-58N lens features a large dynamic range and a low wavefront error (Typ. 0.1λ Max. 0.2λ) without compromising on the form factor or ease of integration. The new lens is based on Corning Varioptic's breakthrough technology, allowing variable focus without moving parts or heat generation at lens level. The A-58N variable focus lens is well suited for industrial vision and optical equipment.
Key Features
Large aperture within small form factor
Silent & low power
Without moving parts or internal heating
Focus range supports 7 cm to infinity
Easy to integrate
The lens is available with 3 different AR coating options, and in a packaged format with or without integrated thermistor.
Click here to learn more about the A-58N variable focus liquid lens.