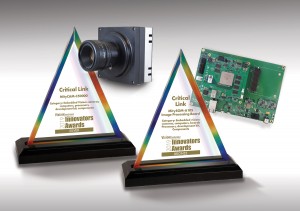 Critical Link, LLC, specialists in image sensor technology, system-on-chip (SoC) and field-programmable gate array (FPGA) designs, vision protocols, and signal processing, received two Innovators Awards, a silver and bronze, presented at the Fifth Annual Vision Systems Design Innovators Awards program on April 8 during Automate 2019 in Chicago, Illinois.
The MityCAM-C50000 was honored with a silver award in the Embedded Vision category by a panel of esteemed experts. Critical Link's MityCAM-C50000 is an open architecture platform that allows for user programming, and a design that allows for hardware customization. The embedded vision platform enables developers and OEMs to embed their image-processing algorithms and application IP on-board the system.
The MityCAM-C50000 was developed around the CMV50000 sensor from ams / CMOSIS. It is a global shutter sensor featuring 47.5MP resolution (7920 pixels x 6004 pixels) at 30 frames per second, mono and RGB color options, with low dark noise and high dynamic range. The sensor outputs in sub-LVDS mode and provides special capabilities in binning, subsampling, and on-chip corrections.
Critical Link's MitySOM-A10S-DSC earned a bronze award in the Embedded Vision category. The MitySOM-A10S-DSC is a production-suitable image processing board that features the Intel/Altera Arria 10 SoC. It is part of the company's latest family of industrial performance system on modules (SOMs). The board includes dual-core Cortex-A9 ARM, up to 480KLE user-programmable FPGA fabric, 12 high-speed transceiver pairs, and up to 6GB DDR4 RAM. It features dual-side connectors for use in stack-through configurations, a unique benefit to developers of next-generation embedded imaging and machine vision applications.
The Innovators Awards are judged based on the following criteria:
Originality
Innovation
Impact on designers, systems integrators, end users
Fulfilling a need in the market that hasn't been addressed
Leveraging a novel technology