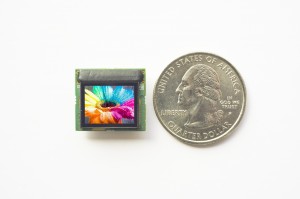 eMagin Corporation added to its next generation family of digital interface Organic Light Emitting Diode (OLED) microdisplays, featuring low power requirements, high contrast imagery and no motion artifacts,
The SVGA150 OLED-XL, an ultra-compact, full-color, digital interface microdisplay, provides product designers with the ability to create a broad range of more versatile military, public safety, industrial and consumer headsets and goggles. The new microdisplay is an important addition to eMagin's digital interface, OLED-XL microdisplay family as it is an update to the Company's volume leading SVGA+ OLED microdisplay, first introduced in 2001.
It has a 15-micron pixel pitch (the same as eMagin's current SVGA microdisplay, making it easy to replace) and is extremely compact in size (just 18 millimeters long x 16 mm wide x 5.01 mm high) and is built upon on a single crystal silicon backplane. It features eMagin's Deep Black pixel technology, which creates real black pixels and ultra crisp images with 100,000:1 contrast at normal luminance and room temperature – far exceeding the capabilities of LCD and LED displays.
Unlike other microdisplay technologies, the SVGA150 OLED-XL's pulse-width-modulation functionality virtually eliminates motion artifacts. It is inherently suited to commercial and military ruggedness standards, turns on instantly at low temperatures without the need for heaters and requires no backlight or liquid materials.
The SVGA150 OLED-XL microdisplay supports a wide range of applications including night vision/thermal imaging, targeting devices, command and control, situational awareness, augmented vision/data glasses, mobile computing systems, personal display systems field maintenance and repair and instrumentation and test equipment. eMagin is a leader in OLED microdisplays and virtual imaging technologies used in military and commercial applications.
eMagin's digital interface OLED-XL family of OLED microdisplays includes the VGA150 OLED-XL, the WUXGA OLED-XL and the new SVGA150 OLED-XL. Additional products are planned for release in 2013.
Engineering samples of the SVGA150 OLED-XL microdisplay are now available with volume production expected by the end of July 2013.