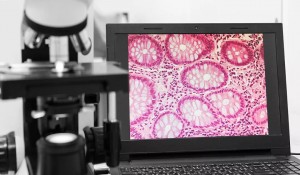 Cambridge Raman Imaging Limited (CRI) was founded with the aim of developing an AI supported chemometric pathology system capable of locating cells in patient samples using quantitative and spatially resolved spectroscopic analysis of fresh tissue, as a better alternative to subjective diagnosis of samples by histopathologists. The company founders hired Matteo Negro as CTO in 2020, aware of his skills and knowledge in laser research and developing medical applications.
The road to CRI began in 2006 when Matteo graduated from the Polytechnic University of Milan with a BSc in Physics Engineering, a course designed to develop engineers with a strong background in physics. This was followed in 2009, with an MSc in Physics Engineering that focused on nanotechnology and photonics, the two fields considered most relevant to the future needs of industry. Having developed an interest in the power of fast lasers to probe matter at the microscopic level, in 2010, he began a PhD to research into mid-IR ultrafast laser sources for applications in atomic and molecular physics.
After his PhD, he worked as a researcher at the National Research Council of Italy (CNR), where he continued work on photonics and nanotechnologies. However, in 2017, after 14 years in academia, he decided to go into industry with the aim of using his knowledge to create real world applications that could benefit humankind. This led to him to work for the next three years as the Laser R&D Manager, for Bios S.r.l., a family company developing medical lasers for aesthetics and dermatological applications.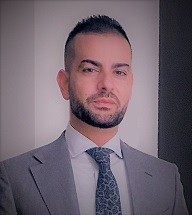 Shortly after joining Bios, the company was bought by Lumenis, a global leader in medical lasers and Matteo was tasked with managing the R & D team in the development of innovative laser workstations for hair removal & skin treatments. In this position, he gained valuable experience in managing teams to achieve specific targets and it deepened his knowledge of the use of lasers for clinical applications and medical devices in general.
Cambridge Raman Imaging
In 2019, he became a member of the Advisory Board of the engineering physics course at the Polytechnic University of Milan. His role was to make suggestions on how the course could be better tailored to equip students with the skills needed in industry, for example, by including modules on project and IP management. The year before he joined the Advisory Board, two academics – Professor Andrea Ferrari, from the University of Cambridge and Professor Giulio Cerullo from the Polytechnic University of Milan – had founded Cambridge Raman Imaging Limited (CRI), and they invited Matteo to join the company in 2020 as CTO.
As he recalls, it was the perfect job as it gave him the opportunity to combine his two passions of ultra-fast spectroscopy and the development of state-of-the-art medical devices.
Company development
With initial funding from Frontier IP Group, CRI had been set up in 2018 to develop two main products. The core device is a Chemometric Pathology System based on coherent Raman – a clinical application to help clinicians and histopathologists understand what's inside tissue and to discriminate between tumours and healthy tissues in order to gain a better understanding of the cellular processes underpinning disease, and thereby, to optimise therapies. An important component of the platform is the use of AI programmes to analyse the large scale data and create a library of 'best treatments' based on chemometric data, something that is difficult to achieve with conventional imaging of stained tissue.
The second device is a non-clinical application in the form of a high-speed coherent Raman spectroscopy (CRS) scanning microscope that provides spectroscopic analysis of the chemical properties of materials. This instrument is intended for a variety of applications in academic and industrial research as well as for biotech and those pharmaceutical companies involved in drug discovery.
When Matteo joined the company, he became the third member of the Board of Directors alongside Giulio Cerullo, founder & scientific advisor, and from Frontier IP, Paul Mantle, CEO and Chairman of the company. Since then, as leader of product design and development, his main task has been to build a technical team with expert knowledge in the critical technology areas of optical and electronic design and system engineering.
In his company management role, he has also been involved in raising VC funding, which for a small medical device company without a prototype has sometimes proved difficult. Not only are there risks with their complicated deep-tech technology, but there are also the additional uncertainties associated with regulatory process involving long, expensive clinical trials. In 2020, the company successfully completed its Round 1 equity funding and also won two competitive grants from the European Graphene Flagship and H2020, which provided an important additional source of revenue. More recently CRI has been awarded with the prestigious Horizon Europe EIC Transition Grant, aimed at bringing CRI technology to the clinical validation phase, where Matteo is the project coordinator.
In working together to drive CRI forward, the company directors have forged a close and effective team and Matteo is extremely appreciative of the support provided by CEO Paul Mantle, who has mentored him about soft skills as well as business and company management.
The future
The hard work they have put in over the last 2 years has paid off. Having won three prestigious EU projects, the company is now well funded, and they expect to have their first prototype ready in the next few weeks. For Matteo, his future is inextricably linked to CRI whose aim to become a leader in the chemometric histopathology field.
Their first product launch will be for their high-speed CRS scanning microscope, which, as it has non-clinical applications, will not require lengthy regulatory procedures. With MOTIC Medical, one of the largest scanning microscope manufacturers in the world, as a strong, global industrial partner, the aim is to target markets in the US, Europe, Asia Pacific and China with revenues coming from both licensing and product sales. In addition to the hardware, CRI will also sell the AI software required for analysing the Raman images.
Selling the Chemometric Pathology System as a clinical application will be more problematic. Firstly, before putting the device onto the market it will need to undergo clinical trials in order to receive approval from US, European and other national regulatory bodies. But as the technology is completely new there are no similar devices on the market, so approval will take some time. Despite the availability of fast track channels, such as the FDA's 'breakthrough innovation' and 'safer technologies' programs, the company does expect a thorough process to achieve regulatory approval.
There are technological challenges.The company has a strong IP portfolio, but some of the engineering remains problematic. However, for Matteo, this is not a big issue because, as he points out, once the technology has been developed and proven at the prototypical level, engineering is just a matter of time and having the right people working on it.
To overcome these challenges, one of Matteo's immediate priorities is to expand the research team from 10 to 20 by the end of 2022 – both to recruit more engineers and designers, and also to bring in people with experience in regulation, quality and sales. These departments will give CRI the structure and sense of being a real company rather than a start -up and provide a firm foundation for future growth.
As Matteo says: "the future looks good - the technological pieces and funding are there, we have a fantastic team and the feedback form our partners is always positive; so, future success for us is now a matter of focussing on making a product that the clinicians want.
If you started again, what would you do differently?
"In previous roles we were under constant pressure to deliver on R & D targets and increase turnover. I've come to realise that people react differently to stress and maybe I pushed some of my team too hard to get results. If I started again, I'd try to take a more balanced approach."
What's your advice for the next generation of entrepreneurs?
"First, go into photonics. It's an incredibly exciting field and it's really going to change our lives, but it's important to choose an application that fits your interests and your vision for the future.
Second, whatever the field, it's crucial to become an expert. Once you have a perfect understanding of the physics behind your application, everything else will fall into place.
Third, be passionate about what you do. Think about how your application can change the world rather than being content to live in a world created by somebody else.
Fourth, don't be afraid of changing direction. The skills and knowledge you gain as a researcher can be applied to any area of work. Towards the end of my time as a researcher at CNR, I became less attracted to research for its own sake, so I switched to a more fulfilling career in industry, and I've never looked back.
Finally, join an industry association like EPIC because this will give you an excellent opportunity to make contact with experienced people in the field and to understand where the technology is going."
Written by Antonio Raspa, Senior Photonics Program Manager at EPIC