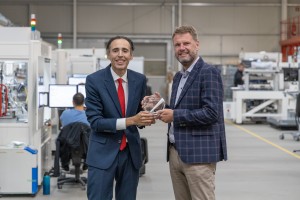 The European Photonics Industry Consortium (EPIC) announced the winner of the EPIC CEO Award 2021 as Torsten Vahrenkamp, CEO and co-founder of ficonTEC.
After co-founding the company together with Matthias Trinker (CFO), and following a very difficult start due to the telecom bubble roughly 20 years ago, ficonTEC's expansion over the last decade has been impressive. Between 2010 and the current day, the company's workforce has grown from 25 to around 200, the production facilities have been increased from 1000 to 4000 square meters, subsidiaries have been opened in China, Thailand, and the US, and a system design and production plant have been established in Estonia.
To accompany the recently re-located and expanded R&D facility in Achim, Germany, there are now also industry-focused Applications Labs at the corporate locations in Germany, China, and the US. With the number of globally installed systems now around 1000, ficonTEC is today one of the key companies worldwide for advanced automation production systems for the assembly and test of optoelectronic and photonic integrated circuit (PIC) devices.
According to EPIC CTO, Jose Pozo, ficonTEC has revolutionized the way that industry approaches photonic device manufacturing worldwide. And their more recent collaborative developments both in photonic device integration and for wafer-level testing of PICs represent just some of the many reasons for their success.
During the half-hour interview, Torsten describes why ficonTEC was originally positioned in the middle of the photonic device value chain focusing mainly on the machines that were going to make the packaging, reveals when he encountered PICs for the first time and provides some unique insights on this and other significant historical milestones in the growth of ficonTEC. The conversation is full of real lessons learned, important strategies, and experiences from which to draw inspiration.
Torsten Vahrenkamp said, "Thank you. I am very honored to receive this award and it makes me very appreciative when I think about the very many other important people at ficonTEC who have gone through all of this together with me and to get this far. This was a team effort."