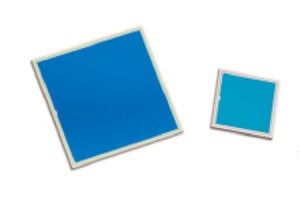 Excelitas Technologies' Corp., a leading industrial technology manufacturer focused on delivering innovative, market-driven photonic solutions, introduces its new VTH21 Series of photodiodes for radon detection. Offered in chip form for optimal alpha particle detection, Excelitas' low-capacitance VTH21 Series of silicon photodiodes provides high responsivity to radiation of interest, making the new photodiodes an ideal solution for radon gas detection and alpha particle detection.
Featuring a robust chip design in either a waffle pack or Mylar (preferred), these photodiodes are available in two different standard chip geometries including 5x5 mm (VTH2110) and 10x10 mm (VTH2120) large active area for maximum detection of low-level radiation with a spectral response between 400 nm – 1100 nm. Supplied as bare dies to maximize signal levels, the product's flexible geometry design can be tailored to customer's specific needs, providing maximum signal in system applications for alpha particle detection.
Features and benefits of the VTH21 Series of photodiodes include:
Bare die for direct detection of alpha particles increases the absorption versus packaged devices to offer better performance
Robust radiation-resistant design enables long-term operation in the field
Optimized chip design for greater absorption of alpha particles enables higher performance systems
Large area chip increases the detection probability in low signal environments and improves system performance
Assembly compatible with conductive epoxy mount
Customization is available
RoHS compliant
"Excelitas is pleased to debut our new VTH21 Series of photodiodes for radon detection. Due to the series' robust chip design, the low capacitance silicon photodiodes provide high responsivity to radiation of interest supplied without a radiation absorbing window. As result, they provide a great option for design engineers working in the field of alpha particle detection instruments, enabling customers to integrate the photodiodes into their system at maximum signal levels with cost-efficient price points," said Denis Boudreau, product leader of Photon Detection Technologies at Excelitas.
The new VTH21 Series of photodiodes for radon detection will be featured at Electronica in München, Germany, November 15 – 18, 2022 (Excelitas Booth # 303, Hall B3).