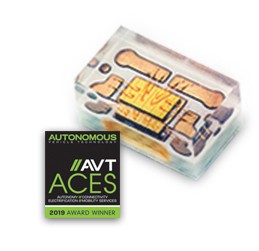 Excelitas Technologies Corp., a global technology leader delivering customized photonic solutions,announced that its Surface Mount Device (SMD) 905nm 1X4 Pulsed Laser Diode Array has been honored as an inaugural winner of the Autonomous Vehicle Technology ACES Award. As a key building block of next-generation lidar systems, the SMD 905nm 1X4 Pulsed Laser Diode Array has become an indispensable emitter technology for autonomous vehicles, which addresses OEM design engineers' need for a high-performance, customizable solution.
The Autonomous Vehicle Technology ACES Award recognizes the most innovative autonomous vehicle technologies, products and services of the year in the main areas of autonomy, connectivity, electrification and mobility services. Excelitas' high-performance, customizable laser array combines field-proven high-efficiency, multi-cavity laser chip technology with small form-factor surface mount device packaging. Unlike single-pixel lasers, the 1X4 linear configuration allows each pixel to be situated in very close proximity to its neighbor – minimizing space requirements in the assembly and allowing the use of smaller, less costly optical components.
The SMD 905nm 1X4 Pulsed Laser Diode Array is fully compatible with SMD pick-and-place and reflow soldering equipment, allowing it to seamlessly integrate into high-volume, low-cost assembly lines. Each laser pixel can have up to four emitting stripes for very high per-channel optical power levels in excess of 85W for long-range detection with minimal power consumption. These lasers can also sustain large reverse voltage levels, with rise times of less than 5ns that can be achieved with proper drive electronics.