FEMTOprint is a Swiss high-tech company dedicated to contract development and manufacturing of precise 3D printed microdevices in glass. It was founded in 2013 by Nicoletta Casanova after taking a very short sabbatical following the founding of another successful tech company.
The story begins back in 1994 after Nicoletta graduated with a degree in Civil Engineering from the ETHZ, the Swiss Federal Institute of Technology in Zurich. She worked as Technical Director at a lab for material testing and at the same time as a researcher at EPFL, the Swiss Federal Institute of Technology in Lausanne. At the EPFL, she began working with Daniele Inaudi, a fellow researcher, on an optical fiber deformation sensing system for civil engineering structural monitoring, helping him to develop practical applications for his promising technology.
In 1996, they approached a large Swiss company, leader in fiber optic connectivity with a view to selling their IPs. At that time, as there was no clear application for the telecom industry within the company, their offer was turned down. However, the President of the company was so impressed with the technology that he offered to support and provide investment for Nicoletta and Daniele to set up their own company, Smartec, with Nicoletta as CEO and Daniele as CTO.
Over the next 4 years, they provided fibre-optic sensing technology for structural monitoring for buildings and large structures such as pipeline, bridges, dams and tunnels worldwide. The company had been awarded with the CTI-Startup label from the Swiss Commission for Technology and Innovation (currently Innosuisse, the Swiss Innovation Agency) and won the Technologiestandort Schweiz Prize for innovative products. In 2000, Smartec introduced the DiTeSt system, a distributed strain and temperature monitoring system based on Brillouin scattering and by this time the company had become so successful that Nicoletta and Daniele were able to buy the shares held by their first investors and take control of the company.
In 2006, Smartec became part of a Canadian public group for geotechnical instrumentation and structural health monitoring, and Nicoletta took on the additional role of CEO at TELEMAC, a leading Paris-based supplier of geotechnical & structural instrumentation, and a strategic role in the management of the whole group.
FEMTOprint
In 2012, after dedicating days and nights, weekends and her energies as an entrepreneur during the previous 12 years, Nicoletta was ready for a break and she began a sabbatical year to step back and pursue her passions for sports, travelling, scuba diving and gliding. But the break lasted only two weeks when she was approached by a member of a consortium of a European project that had been developing a clean room-free, tabletop 3D printer for micro manufacturing. He wanted Nicoletta to investigate the possibility of creating a new business and find the investment to commercialise the technology. Initially, she was reluctant to get involved, happy with her plan of being on a sabbatical year. But after meeting with the members of the consortium and learning more about the promising technology, she has been seduced by the new challenge, and in 2013, she founded the company FEMTOprint.
The technology in question is a 3D printing system using light as a powerful ink source. The beam, focused inside glass, modifies the refractive index and density of the material and, depending on exposure parameters, waveguides can be formed to produce monolithic 3D shapes in glass with high precision at sub-micron resolution.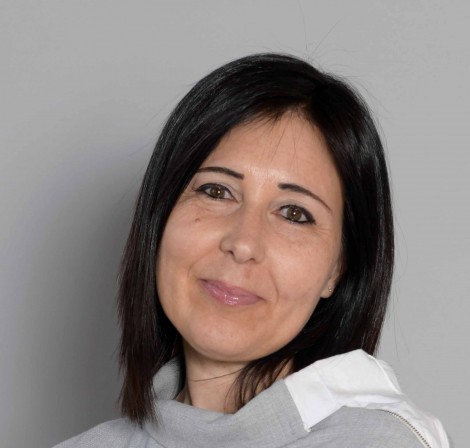 For Nicoletta, the technology has two main selling points. First, compared with other materials, glass has outstanding properties for 3D microdevices such as optical transparency, high flexural strength, mechanical and thermal stability, low permeability, biocompatibility, and resistance to corrosion, abrasion, and scratches. And second, these benefits, combined with FEMTOprint's free-form manufacturing capabilities at wafer-level, enables the company to provide unique device performances to their customers. Applications combining optical, mechanical, fluidic and electrical features are fulfilling the miniaturization drifts ongoing in many industrial areas such as the bio- and medical technologies, photonics, MEMS, automotive, airspace and imprints.
Company development
The original idea was to offer tabletop 3D printing systems to enable small companies and universities to carry out rapid prototyping of complex glass micro-devices without the need of a clean room. However, it soon became apparent that due to complexity of the process and the expertise required, there was also a market for contract manufacturing. Accordingly, Nicoletta split the company into three business divisions: new systems and supporting software to enable customers to do their own prototyping helping them to boost their innovation; an in-house product development, engineering and rapid prototyping service, from a few days turnaround time depending on the complexity of the component; and lastly, industrial contract manufacturing service for serial productions, ISO 13485 certified.
Their first large enterprise customer was a company in the medical sector, who asked to produce a novel micro catheter (see image above). It was a challenging job as the catheter was a mix of very complex shape, tight tolerances and there were doubts as to whether the machines, at that time, were capable to cope with the customer requirements. But they persevered, and after some trials came up an almost perfect part.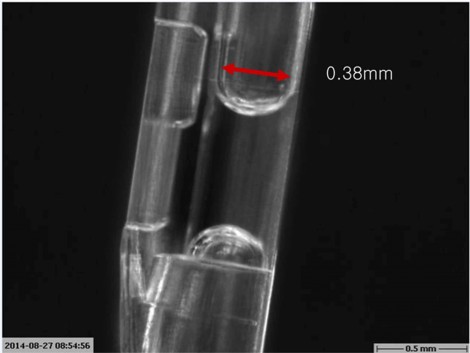 Microcatheter
From then on, this "can do" attitude became an integral part of the company culture and earned FEMTOprint the reputation of always making their best efforts to satisfy their customers' needs, going constantly beyond the perceived limits of the technology.
Today, FEMTOprint counts more than 30 team members and covers a total floor area of approximately 1000 m2 including development and production facility. Despite pandemic, in the last 6 months 20% new workforce has been hired and additional recruitments are planned in the next months to sustain the business expansion.
Applications
With sales partners in Europe, Middle East and Asia, their main applications are covered in the following areas:
Biotech, Medtech & Life Sciences. In this context, examples are very diversified. From 3D lab-on-a-chips combined with metal coatings for electrophoresis, to droplet generators and flow cells with electrodes buried into glass for advanced diagnostics and therapeutics.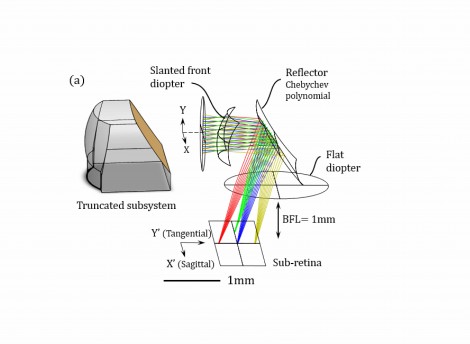 Schematic optical subsystem with front spherical surface, back mirror (freeform) and bottom flat dioptre.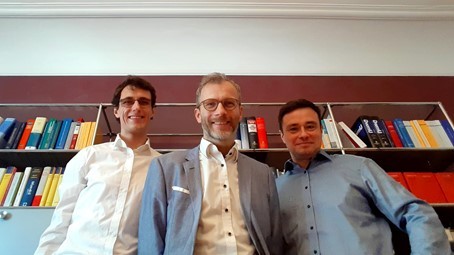 Images on right: (b) 3D view of the optical system for a particulate matter sensors on-a-chip. (c) Optical view of the fabricated glass piece. (d) Associated view of the original drawing. Credit: CEA-Leti.
Introducing optical fibers and microlens array (MLA) instead of metal coatings, novel opto-fluidic devices for biochemistry are developed.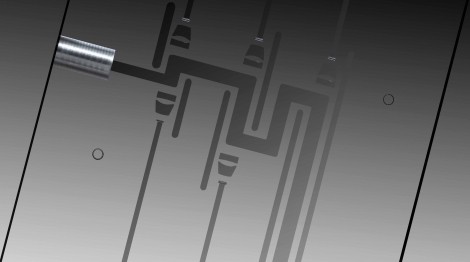 An opto-fluidic device with integrated micro-lenses and fiber array.
Nozzles, connectors, cannulation tools for the eye surgery are among the tiniest feature size achievable, down to few microns channel diameter.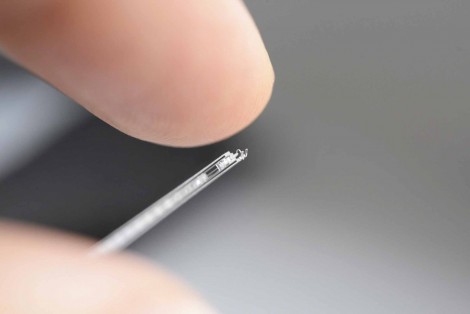 SPOT device - Safe Puncturing Optimized Tool for Retinal Vein Cannulation
Most fascinating of all, are FEMTOprint's glass-based organ-on-a-chip that can create soft tissues such as organs, membranes, skin, and neural pathways that can self-replicate in-vitro.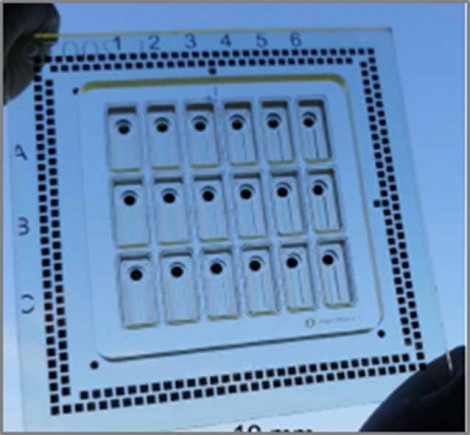 An Organ-on-a-chip with trapping microelectrodes
A boost towards medical device manufacturing has been given through the implemented ISO 13485:2016, a Quality Management System (QMS) to ensures compliance with regulatory and legal requirements for the design and manufacture of medical devices.
In Micromechanics, the glass properties play an important role in oscillating, actuating, and sensing applications, as well as in movement mechanisms for the watchmaking and jewellery segments. These are particularly appreciating glass due to its properties of being light, flexible enough to replace traditionally employed components in metal or silicon, and transparent, ideal to create interesting contrasts and aesthetical novelties.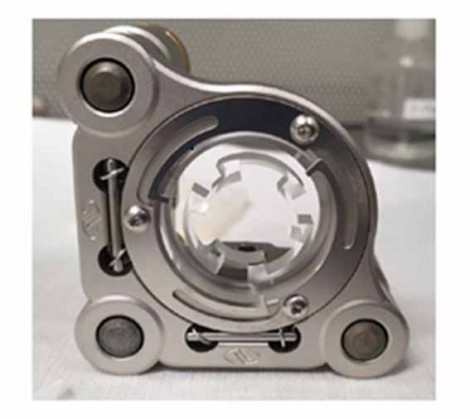 Optomechanical inertial sensor. Credit: Max-Planck-Institute for Gravitational Physics.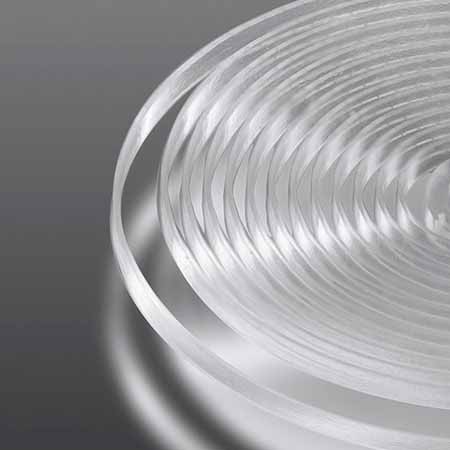 Actuating spring. Blade width down to 20 um over approx. 100 um thickness.
Optics and photonics applications are growing in combination with the increasingly performance of the surface finishing and the wafer-scale processing, compatible with technical optics such as microlens array, physical gratings, couplers, polarizers and alignment systems for fiber optics.
Through-glass via (TGV) are mostly used in advanced photonic and MEMS packaging, as well as in interposers.
Factors of success
In 2021, FEMTOprint were winners of the 2021 SPIE 3D Printing, Fabrication, and Manufacturing Award for their unique manufacturing of a three-dimensional glass microsystem for highly sensitive molecular and bacterial essays.
This award, which broadens the already large Palmares of prizes and awards collected by the company, together with a worldwide portfolio of customers, underlines the progress that FEMTOprint has made over the last 8 years and the crucial role the company is playing both in Europe's revolution in micro-optics and in changing the way complex industrial microsystems are designed, manufactured and employed.
Nicoletta attributes their success to two main factors. Firstly, a highly talented and passioned team committed to innovation in both existing and future markets; and secondly, a company that always accepts new challenges and push beyond the boundaries.
Also, important has been the fact that as FEMTOprint works in medtech, unlike many other companies, they have been allowed to continue working throughout the COVID-19 lockdown. In fact, despite a few challenges in the supply chain, they have actually grown during the recovery period.
Jose Pozo, EPIC's CTO, had a chance to interview Nicoletta Casanova, CEO of FEMTOprint:
If you started again, what would you do differently?
"When I started out, I was so passionate and engrossed in my work that I didn't notice that life was somehow taking another path. If I started again, I'd probably take more time for my family and my friends, to read a book, and do more gliding, scuba diving and sailing. But I am truly blessed to be able to make good and even bad decisions every day and to always make new mistakes...". And she smiles.
What are your words of wisdom for the next generation of entrepreneurs?
"First, whatever field you decide on, you need to be passionate about the technology and to accept new challenges every day".
"Secondly, invest in your team: you will not succeed alone and for sure there are things that your team do much better than you!".
"Third, in the competitive and rapidly changing high-tech markets, you need to learn how to take calculated risks and to constantly push your limits to align with your customer's vision".
"Fourth, while a CEO needs to have an overall picture of the company, it's also sometimes useful (and funny) to put the hands in the process, particularly to support your team in ensuring that your products are of the highest possible quality and precision".
"Finally, although you won't be able to make an impact without working hard, it's also important to aim for good work/life balance that gives you time to recharge your batteries, open your mind and pursue other interests and commitments".
Written by Jose Pozo, Chief Technology Officer at EPIC (European Photonics Industry Consortium).