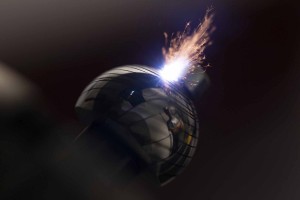 Femtosecond lasers generate a specific interaction between the photons and the targeted material resulting in an impact controlled sublimation: precise, reproducible, and without unwanted heat diffusion effect. The technology enables cutting, engraving and functionalization of materials through an eco-friendly dry processing with low electrical consumption and no additional chemicals required. Manutech, a laser specialist based in France, aims to foster an ecosystem that will enable research on application of femtosecond to be transferred from the lab to industry. In this article, Francesca Moglia, former Photonics Technologies Program Manager at EPIC, talks to Nicolas Compere, CEO of Manutech USD.
With a passion for science, optronics and aeronautics, in 2012, Nicolas graduated from Jean Monnet University, Saint-Étienne, France with an MSc in Micro and Nano Photonics Systems. The course included various R & D industrial placements involving such topics as innovative femto-second laser machining techniques, simulating laser interaction with algae species and implementing a C# software for measuring the clogging ratio of vapor generator in nuclear plants. In the final 6 months, he worked at the French National Centre for Scientific Research (CNRS), studying the thermal effects of femto-second lasers.
In 2013, he became an optronics engineer at Scalian, a partner of Airbus Helicopters, responsible for improving optronic helmets and gimbals. Then, in 2015, wanting to work in a less bureaucratic structure, he moved to the small French R & D division of Paramount Group, a south African aerospace and technology company, where he was responsible for optronic integration and laser systems for various defence applications. This was a great experience as it taught him the value of working as part of a strong team and he learned a lot about business.
In 2018, following the closure of Paramount's R & D division, Nicolas was taken on by Manutech USD, a group of common interest initiated by Jean Monnet University and IREIS company with support of ANR and Saint Etienne Métropole, whose mission was to provide Europe's first femtosecond laser platform for industry. He started as an R&D engineer developing new machining and texturing environments with femtosecond lasers with the aim of incorporating more materials, improving quality and shortening machining time. Nine months later, in recognition of his capabilities and experience, he was appointed R&D Manager and took charge of the technological development of the company to oversee improved and faster processes. As a member of the executive committee, he also helped to define and propose the company's technological roadmap.
Then, in 2021, impressed with his strategic vision for business and innovation, technical knowledge and good communication skills with customers, he was appointed Manutech USD's Vice-President for Business Development and Innovation. In this position he has since been responsible for identifying new business opportunities, ensuring a viable strategy for growth and continuous technological improvement.
Manutech USD
To facilitate the transfer from the lab to industry, Manutech has brought together partners from academia and industry covering the whole value chain from state-of-the-art, through technical validation, proof-of-concept, process development, to pre-series and full production. The idea for now is to focus on increasing technology readiness levels (TRLs) in three areas. The first is research (TRL 1-4) via collaborations withUJM Université Jean Monnet (laser material interaction (Laboratoire Hubert Curien and biomedical applications), MINES Saint-Étienne, (material resistance analysis) and Ecole CENRTALE Lyon (tribology). The second are the technological platforms (TRL 4-7) through collaboration with Cetim, the French Technical Center for Mechanical Industries and Industry. The third is industry (TRL 7-9) in conjunction with WeAre group, a French manufacturer of aerodynamic parts and HEF Groupe, who are leaders in PVD and CVD.
They have three types of platforms: 11 femtosecond lasers, 1 multifunctional multiscale characterization, 1 advanced structural characterization, while applications include cutting & engraving; functionalised surfaces, e.g., hydrophobic & self-cleaning surfaces; marking, e.g., colour separation, absolute black and colouration.
Projects: In recent years, the company has been involved in several collaborative projects such as DEPERFLEX on the development of fluorine-free water repellent treatments for the textile industry; GRAFEM, an industrial demonstrator for jewellery and watchmaking applications and work on a performance boost for a precision piece for the aerospace company Safran.
Management: Because Manutech USD are a consortium of organisations with common interests, they have dispensed with a CEO in preference of a three-person management committee comprising vice-presidents in charge of three areas. Nicolas covers R & D, business and European projects, another takes care of administration and finance and the third is responsible for the buildings and the equipment.
Photonics21
Shortly after starting at Manutech USD, Nicolas was voted onto the Board of Stakeholders of Photonics21, the European Technology Platform, which aims to promote Europe as a leader in the development and deployment of photonics technologies in fields such as ICT, lighting, industrial manufacturing, life science, safety as well as in education and training. With more than 3,000 members, it also coordinates photonics research and innovation priorities and provides input to the European research framework programme Horizon Europe. Accordingly, his aim was to be involved in strategic decisions regarding the development of photonics. But as he points out, for a small company like Manutech USD, influencing the future direction of photonics is difficult. Firstly, because many board members are well established and tend to have fixed views, and secondly, as French companies are not well represented in the consortium it is difficult to get the French perspective across.
In this context, he is uneasy about the trend of photonics being promoted under the same umbrella as digital technologies. For Nicolas, photonics needs to keep its own identity - not entirely split from things like artificial intelligence - but for photonics and digitalization to develop in parallel.
The future
For Nicolas, Manutech USD's aim of getting femtosecond laser research out of the laboratory and into industry will require work in three main areas. Firstly, there is the need to work with researchers to imbue them with the aim of developing femtosecond laser processes that can be rapidly applied in industry to increase TRLs of the technology for cost effective applications that can be used by the end customer.
Secondly, as Manutech USD's ultimate aim is to have the technology in production, consideration must be given to both to increasing manufacturing readiness level (MRL) and finding the manufacturing companies willing and able to adopt their technology. Although full production is not envisioned for at least 10 years, the company will have to start finding and orienting potential customers now. To this end, the company has joined EPIC to take advantage of its wide network covering the whole supply chain, and it also has plans to get involved in more European projects with the aim of reaching 20 manufacturers per year and projecting Manutech USD's services and objectives to a wider audience.
Thirdly, because they are a small company, achieving these objectives will mean expanding their current team by recruiting more people with the right technical skills and mindsets and with good interpersonal skills required for communicating effectively with both scientists and industrial customers.
If you started again, what would you do differently?
"When I was in engineering school, I had the option of doing an MBA course, but I turned it down in favour of doing something technical. If I started again, I'd take the MBA option because it would give me a good grounding in running the business side of things.
The second thing I'd do is maybe to dye my hair grey! Most of the people I speak to, particularly at photonics21 meetings are in their 50s, and at 33, looking so young I've sometimes struggled to be heard and to make myself visible."
What advice do you have for the next generation of entrepreneurs?
"First, before you go looking for investment, it's crucial to strategically define what you want to do. Of course, it's good to dream but you need to plan exactly how you are going to turn your ideas into reality.
Second, it's important to experiment without being afraid of making mistakes. Making mistakes is the only way to learn and people who say they do everything right tend to be those who are reluctant to try anything new.
Third, make sure that you have a good professional team around you with a variety of different skills, who are able to support you when the going gets tough.
Fourth, as the company evolves you will need to be less focused on yourself and pay more attention to helping the people around you grow and to foster a strong team who are all pulling together with the same objectives.
Finally, spend some time away from the day to day activities of the company and have a break. This will give you the opportunity to recharge your batteries and to think of new ideas to improve the company."
Written by Francesca Moglia, former Photonics Technologies Program Manager at EPIC.
This article was amended on 5/25/22 to reflect that Manutech collaborated with UJM Université Jean Monnet.