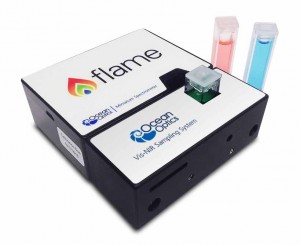 Ocean Optics' new Flame-CHEM spectrophotometer systems combine a high performance, compact Flame UV-Vis (200-850 nm) or Vis-NIR (350-1000 nm) spectrometer, with an all-in-one direct-attach light source and cuvette holder, into a single, affordable package. Conveniently preconfigured, Flame-CHEM systems are ideal for basic absorbance and transmission measurements in teaching labs and research facilities.
The foundation of the Flame-CHEM system is the sensitive, fast and easy to use Flame spectrometer, which delivers high thermal stability with low unit to unit variability. Its linear CCD array detector provides high sensitivity with concurrent measurement of all wavelengths.
Flame-CHEM's direct attach cuvette holder accepts 1 cm pathlength cuvettes for measuring absorbance and transmission of liquid samples. The integrated light source type depends on the system ordered. Flame-CHEM UV-Vis systems come with a combined deuterium-tungsten halogen (200-1100 nm) source; a tungsten halogen source with a violet LED (~390-1000 nm) is supplied with the Flame-CHEM Vis-NIR.
While preconfigured with all the accessories needed, the FLAME-CHEM systems can easily be customized, providing flexibility as measurement needs change. The light source-cuvette holder can be removed; spectrometer entrance slits can be switched out to adjust the resolution and throughput; and discrete sampling devices used in place of the direct-attach accessories.