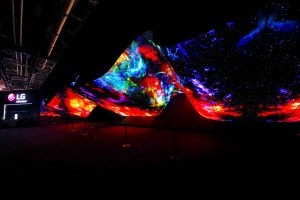 Allied Market Research published a report, titled, "Flexible OLED Market By Type (AMOLED, and PMOLED), Application (Smartphones and Tablets, Televisions, Laptops and Monitors, Wearables, and Others): Global Opportunity Analysis and Industry Forecast, 2021-2031", according to the report, the global flexible OLED industry was valued at $4.1 billion in 2021 and is estimated to generate $117.7 billion by 2031, witnessing a CAGR of 40.4% from 2022 to 2031. The report offers a detailed analysis of changing market trends, top segments, key investment pockets, value chain, regional landscape, and competitive scenario.
Drivers, Restraints, and Opportunities
The rise in demand for low-energy consumer electronics, rapid technological advancements in electronic devices, and an increase in the use of flexible OLED screen in a variety of consumer electronics, including television displays, smartphones, smart watches, tablets, and others fuel the growth of the global flexible OLED market. However, high cost of manufacturing, lower performance, and low temperature tolerance of flexible OLED panels are likely to hinder the global market growth. On the other hand, advances in autonomous and electric vehicles and growing demand for smartphones with large displays and flexible design features will present new growth opportunities for the global flexible OLED market in the coming years.

The AMOLED segment to dominate the market during the forecast period
Based on type, the AMOLED segment contributed to the largest share of nearly two-thirds of the global flexible OLED market in 2021, and is expected to rule the roost during the forecast period. The same segment is projected to witness the fastest CAGR of 41.02% from 2022 to 2031. This is due to the increasing need for faster reference rates for better viewing angles and smoother interactions. Moreover, AMOLED technology can be easily integrated into displays of any size, which facilitates the application of flexible organic light-emitting diodes in various devices such as smartphones, TVs, monitors, and wearables. Moreover, due to its unique properties such as ultra-flexibility and shatter resistance, AMOLED technology is widely used in industrial applications and expected to drive revenue growth of the segment.
The smartphones and tablets segment to maintain its leadership in terms of revenue during the forecast period
Based on application, the smartphones and tablets segment held the largest share of more than one-third of the global flexible OLED market in 2021, and is expected to maintain a prominent revenue during the forecast period. This is attributed to the increasing adoption of flexible OLED in mobile phone and tablet screens due to its many advantages, such as excellent image quality and ultra-high contrast ratio; a wider range of colors; faster refresh rates; wide viewing angles; lighter, thinner, more durable compared to glass-based screens; and a foldable OLED screen. However, the laptops and monitors segment is expected to exhibit the highest CAGR of 41.35% in 2031. This is due to the need for portable and lightweight devices where flexible OLED displays are used to offer improved visual quality compared to traditional LCD displays as well as wider viewing angles, brighter colors and more.
North America to garner the largest revenue by 2031
Based on region, the market in North America was the largest in 2021, accounting for nearly two-fifths of the global flexible OLED market and is expected to maintain its dominance during the forecast period. This is due to the rising disposable incomes of consumers in the region that encourage them to purchase high-end electronics such as curved display televisions and luxury smartphones. Also, the demand for flexible OLED in the region is anticipated to increase due to rising corporate presence, which will increase the deployment of curved displays for multitasking by employees. However, the market in Asia-Pacific is likely to show the fastest CAGR of 42.39% during the forecast period. This is attributed to the presence of big companies such as Sony Group Corporation, LG Display, and Samsung Electronics in the region. Moreover, the launch of innovative products by these players and rapid growth of consumer electronics, especially in countries such as China, India, and Japan, are expected to boost the growth of the market.
Leading Market Players:
OSRAM GmbH.
Sony Group Corporation
Corning Inc.
Universal Display Corporation
Visionox Company
LG Display Co., Ltd.
BOE Technology UK Limited
AU Optronics Corp
Ritdisplay Corporation
Samsung Electronics Co. Ltd.