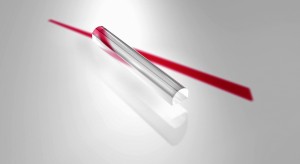 Currently most lidar light sources utilize 905nm pulsed laser diodes, which generally has three p-n junctions in order to achieve high peak power under short pulse. The height of the overall active region is ten times larger compared with conventional edge-emitting lasers. The traditional fast-axis collimation lenses cannot achieve desired divergence angle.
Specially desired for 905nm pulsed laser diodes, Focuslight's new FAC1500/FAC3000 series have large BFL which is not only suitable for bare laser diodes, but also compatible with diode lasers in SMT package such as TO-can and QFN. Besides, the lens length can be customized depending on the number of channels of the laser diodes (e.g. single, 4 or 8 channels).
These new lenses are an upgrade of the popular fiber rod lens solutions. The FAC1500/FAC3000 will provide improved laser energy efficiency and achieve longer detection range, and meanwhile significantly increases detection resolution and detection range, and an overall enhancement of lidar system competitiveness.
Model No.

FAC1500

FAC3000

905nm pulsed laser diode remaining divergence angle

(FW1/e2)

0.44°

0.24°

Effective focal length

1.5mm

3.0mm

Beam size at 1m

(FW1/e2)

7.72mm

5.89mm

Beam size at 1m

(95.5% energy)

8.43mm

6.8mm

Back focal length

~0.5mm

~2mm
About Focuslightï¼
Founded in 2007, Focuslight is a fast growing high-tech company committed to research, development and manufacturing of high power diode lasers. Headquartered in Xi'an, Shaanxi, China, Focuslight provides its products to a variety of different customers like OEMs, ODMs and system integrators in markets worldwide. With its extensive engineering capabilities from thermal, optical and mechanical design to die bonding, FAC assembling and fiber coupling to system integration, Focuslight is dedicated to providing customers with well-matched all-round solutions according to their actual needs.