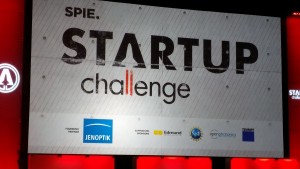 Six companies from around the world made it to the final round of the startup challenge, with final judging taking place live at Photonics West on Wednesday 1 February. A representative of each of the companies that made the finals had just 5 minutes to pitch their business in front of a panel of judges and a live audience. Judges score on pitch delivery, quality of the business case & competitive advantage, quality of the financial case and trajectory of the company.The reward: over $85,000 in cash and prizes for the winner and great promotion opportunities for all of the finalists.
And the winner is...
The winner of the 2017 Startup Challenge is Cellino, a company focused on enabling gene therapies using lasers and nanofabricated substrates. Pitched by Harvard grad student, Marinna Madrid, who noted that with the proliferation of cancer and other diseases "we need safe reliable methods to deliver therapeutic cargo." She said that $1 billion has been invested in delivery methods, but Cellino has devised a benchtop device to be sold to gene editing companies and research labs, hospitals and doctors. Estimated to be a $2 billion market, the company already has three patents on the device through Harvard University
The second place winner is IC Touch, a product that allows blind or visually impaired people to "see" by translating visual information captured by a camera into tactile information. This is the third time IC Touch has been in the startup challenge. Patented technology includes an external camera mounted on top of spectacles. The image is encoded, compressed and transferred to special matrix of micro mirrors that generates ultrasonic stimulation that creates partial tactile stimulation.
The third place winner is Lumedica, a non-invasive OCT imaging technique that provides real-time 2- and 3-d images of the retina at far less cost. Presenter Adam Was said that traditional OCT systems can cost up to $150,000, but this has a price set at $995, plus $495 for the workstation package. He sees this as enabling optometrists who otherwise can't afford an OCT system to put one in their office, or use it as a mobile device.
Equally impressive were the three remaining finalists. Each is using light-based technologies designed to solve real-world problems. Fresh Strips, for example has created smart plastic strips that are put on food packaging, changing color to indicate food freshness. Fastree3D is a solid-state single chip motion sensor that provides 3D imaging and is intended for use by the auto industry to detect pedestrians or other obstacles in front of cars. By using a semiconductor chip, it is power efficient, and by using a single photo detector, it provides 20,000 points of measure. TriLight has developed a compact, integrated and hermetically sealed RGB laser light module that solve the size and weight problems associated with augmented reality glasses.
Congratulations to all the finalists for the hard work and dedication that goes into the development of these light-based solutions.
Written by Anne Fischer, Managing Editor, Novus Light Technologies Today