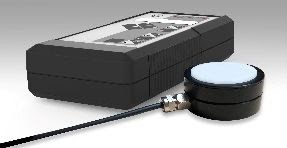 Gigahertz-Optik introduces the VL-3707 Micro-Lux Photopic Detector capable of accurate illuminance measurements down to less than 100 μlux.
The VL-3707 is suitable for extreme low light level applications like testing and characterizing night vision equipment used in surveillance, security and automotive applications. The ability to measure moonlight and starlight (mlux to μlux) enables research on night sky light pollution. Also emergency and egress lighting standards (e.g. DIN EN 1838 and ISO 30061) require measurement resolution in the mlux range.
Incorporating a latest technology photodiode, high transmission photometric filtering, and a cosine diffuser a fast highly sensitive illuminance detector is made available. Used in conjunction with the Gigahertz-Optik P-9710 Optometer, the VL-3707 provides a sufficiently high signal-to-noise ratio for reliable measurements in the 100 μlux range.
At 37 mm diameter x 21 mm high its low profile enables measurements in remote tight spaces.
The P-9710 Optometer, available in three versions (-1,-2,-4), offers sixteen menu selectable modes of operation including CW, dose, pulse energy, RS232 remote control plus internal datalogger function. It is AC or rechargeable battery powered workhorse for in laboratory or field use.
Other key features include adjustable sampling time (100 micro to 6 s) and continuous offset of the pre-trigger light level as well as computation of luminous effective intensity based on selectable standard methods.
All essential detector data is stored in the detector's data connector so that any number of sensors with associated components like optical filters, integrating spheres and other input devices can be interchanged on the optometer for error free system set-up.
A wide range of UV-Vis-NIR detectors is available specifically configured for light measurement applications like intensity of medical flash heads and effective luminous intensity of strobe light warning signals or the radiant energy of pulsed Xenon sources used in UV Curing and UV processes.