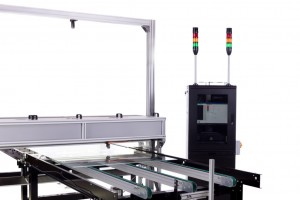 k-Space Associates, Inc., announced today a range of glass metrology innovations designed to help glass companies uncover potential product defects before they must halt production or impact deliveries. These include innovative new tools for broken glass detection, glass thickness, film thickness, color, reflectance, edge inspection, and more. All can be mixed and matched in a single system and easily installed on a conveyor line.
k-Space CEO Darryl Barlett noted that "real-time analysis of glass breakage and defects lets manufacturers quickly scrap defective product and identify upstream manufacturing issues immediately. The result is reduced downtime, lower scrap costs, and fewer returns. And by removing a potential breakage problem early on, that makes for a safer work environment and less damage to downstream equipment."
Glass companies can choose which measurements and which k-Space tools are needed. All are designed to work on the same line and can also be incorporated into existing infrastructure, including factory alarms, PLC, email alerts, QC, and more.
The Glass Breakage and Defect Detection tool identifies cracks, chips, scratches, digs, pinholes, color uniformity, and other factors. It handles clear, transparent, and opaque glass using high-intensity LED light bar modules with safety shielding.
The Edge Profile tool measures the edge profile of a glass lite or panel. It detects chips, cracks, debris, dual pane offset, and radius of curvature on the production line, providing improved real-time quality control.
The new kSA XRF tool measures the layer thickness of film on glass panels that are too thin for reliable optical measurements. The XRF uses an X-ray source, detector, and proprietary software to measure the X-ray emission spectrum, which is then used to calculate film thickness in real-time.
The Glass Thickness and Flatness tool measures total glass thickness, flatness, bow, warp and total thickness variation (TTV).
CEO Barlett stated that "the glass industry is continuously evolving. Our newest glass metrology tools assess every panel and provide real-time measurement for color, reflectance, coating thickness, and other properties. Our tools also aid in the development of new processes and allow for process optimization to keep costs down and quality high."