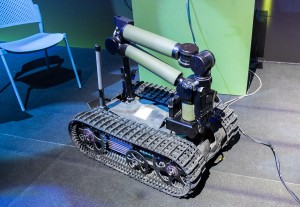 Recently, military forces around the globe are being assisted by non-living things. With the advent of military robots, the nature of warfare has seen a drastic change. Whether it is a bomb detection terrestrial robot or swarms of drones that fly overhead, military robots are finding increasing penetration in modern warfare. Interestingly, military agencies around the globe, irrespective of whether they are public or private, are spending billions of dollars on research and development of humanoid robots that can perform most of the functions that a human soldier is capable of achieving. Request a sample of the report here.
The U.S government allocated $6.97 Billion to the Research & Development of the Drone department in FY 2018. The Army Research Laboratory's (ARL's) Robotics Collaborative Technology Alliance (RCTA) recently developed robots that can be used in battlefields. India's Defence Research and Development Organisation (DRDO) deployed its remote-controlled robot called Daksh. Boston Dynamic's robot dog named 'Spot' is assisting Massachusetts State Police to detect threats. The electrically powered robot helps in the location and destruction of hazardous objects in any terrain. However, with advancing capabilities of Artificial Intelligence (AI) technology, military robots are being trained to be deeply intelligent. This is a notable boost for the global military robotics market.
AI, which can be simplified as the intelligence demonstrated by machines, is being used to train robots to make decisions by themselves. A few days back, the U.S. military experimented with human soldiers being assisted by ground robots and drones in a simulated environment. They were surprised to note that the no human lives were lost in the process, with the enemy being humiliated in spite of being thrice their size. AI helps the robots in making informed decisions, based on the environment, social content and military strategies. A major challenge, however, is the procurement and supply of quality data that is required for optimum functioning of the AI algorithms. Data can be manipulated easily, which results in skewed judgments. Even with these restraints, the global military robotics market will see a high growth during the forecast years, especially in the Asia Pacific region.
The detailed research study provides qualitative and quantitative analysis of military robotics market. The market has been analyzed from demand as well as supply side. The demand side analysis covers market revenue across regions and further across all the major countries. The supply side analysis covers the major market players and their regional and global presence and strategies. The geographical analysis done emphasizes on each of the major countries across North America, Europe, Asia Pacific, Middle East & Africa and Latin America.
Key Findings of the Report:
In terms of revenue, global military robotics market is expected to reach US$ 53934.60 Mn by 2027, with the evolution and integration of artificial intelligence technology.
On the basis of end user, armed forces segment is expected to witness highest CAGR over the forecast period owing to benefits offered by robots in hazardous and extreme environments.
On basis of applications, Metal/mine detections holds the major market share of 32.8% in 2018 and is expected to remain at a dominant position over the forecast period (2019 – 2027), growing at a CAGR of 13.9%
The primary market participants in the global military robotics market include Lockheed Martin, Northrop Grumman, BAE Systems, SAAB, Boston Dynamics, Thales Group, General Dynamics, Israel Aerospace Industries, Turkish Aerospace Industries, Endeavor Robotics, IRobot Corporation, QinetiQ Group and Roboteam.