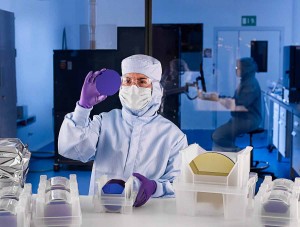 Graphene was first been experimentally discovered and named in 1962 by Hanns-Peter Boehm and his co-workers at Technical University of Darmstadt, but it wasn't until 2004 that the material was first unambiguously produced and identified by two Russian-born physicists, Professor Andre Geim and his ex-PhD student Kostya Novoselov at the UK's University of Manchester. In actual fact, Andre and Kostya, who would be awarded the Nobel prize for their discovery in 2010, had discovered the material by accident while hosting one of their regular 'Friday night experiments', where for fun, they would try out ideas that weren't linked to their day jobs.
Following their work, it was now possible to produce graphene - the thinnest, lightest and strongest material yet discovered comprising a monolayer of carbon atoms, tightly bound in a hexagonal honeycomb lattice. As it could also uniformly absorb light across the visible and near-infrared parts of the spectrum, the material was ideal for photonic technologies, such as a light detectors, optoelectronic transceivers and high-resolution imaging systems.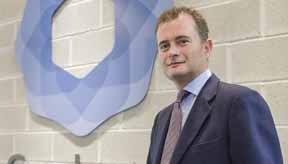 Jesus de la Fuente, now CEO of Graphenea, a world leading graphene producer, saw great opportunity in graphene. In this article, Jose Pozo, EPIC's former CTO, talks to Jesus about how he got his start and the launch of Graphenea.
Early career
Born in Santander in northern Spain, in 1998, Jesus graduated from Bilbao's University of Deusto with a BSC in Computer Engineering. He enjoyed university and threw himself into various cross departmental projects, one of which was helping to develop e-commerce for Coverlink, a start-up involved in the manufacture and commercialisation of products related to electronics and IT.
The company was sold to the bank of Santander, but it was a great learning experience and paved the way for his first job as a junior manager at the accounting firm, Arthur Andersen, in Bilbao. Responsible for advising on strategy & transactions, mainly for large companies like BBVA, Jesus rose to become a departmental manager. As he explains, at that time around 30% of Arthur Andersen's new recruits were telecommunications, industrial and computer engineers as it was felt that this was the best way to effectively assess and engage with customers in these sectors.
Then in 2006, following the collapse of Arthur Andersen due to the Enron scandal, he moved to PricewaterhouseCoopers, where he worked as a director responsible for transactions, project finance, strategy and management consulting. During this period, he worked with several companies in the energy sector and developed an interest in electronics, semiconductors and advanced materials like silicon, lithium and gallium nitride.
Graphenea
Having completed an Executive MBA in Corporate Management at IESE Business School, in 2007, Jesus began to think about setting up his own company. With the encouragement of his entrepreneur father, and after researching various options regarding advanced photonics materials, he decided to explore the commercial opportunities for graphene.
Convinced there was a potential market for the material, over the next three years Jesus developed a business plan in conjunction with NanoGUNE, the Basque nanoscience research center. Through NanoGUNE, he was put in touch with scientists and engineers who were willing to come on board as part of the team and in 2010, having convinced some wealthy families in the north of Spain to invest in the project, Graphenea was launched with Jesus as CEO.
Company development
At the beginning, the idea was just to produce semiconductor grade graphene using chemical vapor deposition technology (CVD) and supply the material to other fabs or foundries. However, realising this wouldn't be feasible due to cross-contamination, they decided to extend their offering to include a foundry service. In this way, they would be better able to control quality and guarantee reproducibility - two things critical for electronics and photonics devices.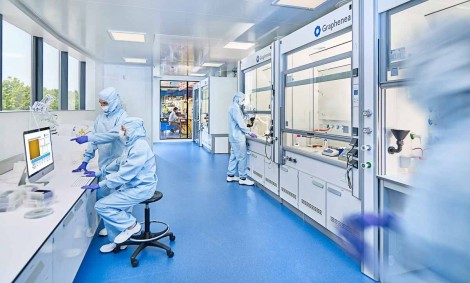 Accordingly, they bought their first equipment, a CVD reactor and leased some space at NanoGUNE in San Sabastian, where they were able to benefit from help and from the centre's research community.
In 2011, they got their first customer, Nokia Technologies in Cambridge UK and Finland. A second milestone came in 2013, when they received an investment from Repsol to boost their technological capacity and maintain their international lead within the emerging graphene production sector.
Also in 2013, Graphenea became a partner of the EU's Graphene Flagship which enabled the company to receive grants to develop new commercial graphene applications and to take advantage of the increase in demand for graphene generated by the project.
In 2016, the company invested in a new clean room and facilities in the Technology Park in San Sebastian, and later that year opened a second sales office in Boston in the US.
The company today
In the last 10 years, Graphenea has grown to a workforce of 35 serving just over 800 customers in 55 countries. They have turnover of around $4m with year-on-year growth of 25% in 2020 and 40% in 2021.
Their portfolio of products consists of CVD Graphene films, Graphene Field-Effect-Transistors chips (GFETs), Graphene Foundry Services (GFAB) and Graphene Oxides. Around 65% of their activities are related to medical biosensors for monitoring things like glucose, haemoglobin and cholesterol levels as well as DNA sequencing. The other 35% to photonics devises such as photosensors and optical switches.
The most important products are the foundry services. The foundry follows a pure-play model based on a vertical integration scheme, which enables the graphene to be grown, transferred and processed under the same roof. In this way, the manufacturing process can be continuously monitored to deliver high-quality, reliable graphene-based devices, tailored to the customer's needs.
Like most foundries, Graphenea has worked on developing standard process flows that are flexible enough to cover a range of applications and customer needs. And to help prospective customers determine whether the flows fit with their requirements they provide standard and affordable demonstration chips for the customer to experiment with.
As Jesus explains, as their main mission is to move graphene technology into the mainstream at a larger commercial scale, quality and reproducibility are of critical importance. For this reason, rather than aiming to make money from a single order, the priority is to get the product right, which sometimes means repeating a run until the desired quality is achieved.
The future
Over the next five years, Graphenea wants to become a larger and more established company and to continue as the leader in graphene foundry activities - in short, to be to graphene what Taiwan is to semiconductors. To achieve this, they plan to upgrade the current line in San Sebastian to 8 inches to enable mass production (at least 100,000 wafers per year) and achieve a reduction in unit cost.
They also plan to increase their number of foundries as, following the COVID-19 pandemic and political differences between China and the US, some of Graphenea's customers are concerned about supply assurance issues. In the US, for example, there are regulatory mandates on imports. Similarly, having a reliable source for chips in Europe is seen by the EU as critical to Europe's strategic interests. Many big corporations are following suit and the tendency now, particularly in the automotive industry, is to have suppliers geographically close to the manufacturing plant. As a result, the company will need at some point to install a second foundry in the US and possibly another in Asia.
As regards particular applications, Jesus sees optoelectronics as having a lot of growth potential, specifically touchscreens, liquid crystal displays (LCD) and organic light emitting diodes (OLEDs). There are two main reasons for this. Firstly, although graphene was expensive at the beginning because they were producing small runs, scale production means they can offer graphene chips at a very competitive price. Secondly, among their current photonics customers, for example in data communication, the key drivers for adopting graphene are better energy efficiency and the opportunity to do things that are either too expensive or impossible to do with other materials like indium tin oxide (ITO). This gives graphene enormous potential for future electronic applications such as graphene based e-paper with the ability to display interactive and updatable information for devices such as portable computers and televisions.
If you started again, what would you do differently?
"I don't regret anything in particular and to be honest, I'm really happy with what I've achieved so far. It was tough on me and my family doing an MBA in Madrid, but I learned a lot and it was good preparation for managing my own company, so it was a good investment.
In retrospect, maybe the 11 years I spent working for accountancy firms was too long, but I was learning, I was happy and successful, and I made good contacts with customers. If I started again, I'd probably go out on my own earlier.
I'd also try to be a bit more aggressive in terms of investments, for example, moving to our new clean room one or two years earlier, but then again, you have to adjust to external factors".
What's your advice for the next generation of entrepreneurs?
"First, follow your passions for the technology and be curious about the business side.
Second, working in a multinational company can be a good learning experience. Learning from your own and other people's mistakes as an employee is a lot cheaper than when you have your own company.
Third, try and avoid the extreme ups and downs of the roller coaster. It's better to keep your eyes on the ball here and now and try to walk an even path towards your goals."
Written by Jose Pozo, Chief Technology Officer at EPIC (European Photonics Industry Consortium).