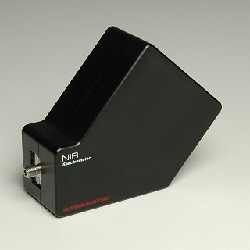 Hamamatsu introduces a new spectrometer to its series of transmission grating (TG) based mini-spectrometers. All of these modules consist of a palm-top size polychromator integrated with optical elements, a photodiode array optimised for the required wavelength range and an image sensor driver circuit.
In addition, these spectrometer modules are supplied with sample software, which allows the user to set measurement conditions, acquire and save data and then display it graphically, thus making it quick and easy to start taking basic measurements. Use of the universal serial bus (USB) 2.0 interface means that no external power supply is required as the modules can use USB power from the PC and this, together with the compact design, allows easy assembly into portable equipment.
The new C11482GA is an improved version of Hamamatsu's existing near-infrared (NIR) mini-spectrometer and uses a Hamamatsu indium-gallium-arsenide (InGaAs) linear image sensor to cover the spectral region of 900 nanometres (nm) to 1700nm. Unlike Hamamatsu's other NIR mini-spectrometers, the C11482GA does not use cooling, but it still offers low noise characteristics. With a 7nm resolution, trigger compatibility and USB 2.0 connectivity, the C11482GA is suitable for applications such as water content measurement, component testing in the optical communications sector and film thickness measurements, among others.