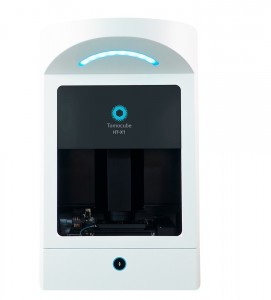 Tomocube, a specialist in high-resolution cellular analysis technologies, revealed its new cutting-edge holotomography (HT) platform HT-X1 at Cell Bio 2022. Built around the company's ground-breaking optical diffraction technology, the HT-X1 is the world's first holotomography microscope to utilize incoherent light and made its North American debut in North America at the joint meeting of the American Society for Cell Biology (ASCB) and European Molecular Biology Organization (EMBO) on December 3-7 in Washington, DC.
HT-X1 uses a conventional single-beam LED instead of a laser light source to illuminate the sample with various beam patterns specifically designed to retrieve the refractive index and capture a sequence of holograms from different positions. This unique, single-beam technique simplifies the imaging process by eliminating the need for background calibration and allowing imaging in confluent samples without an increase in light intensity. It provides best-in-class mechanical stability and less sensitivity to speckle noise for high-contrast imaging with a lateral resolution of 156 nm.
HT-X1 enables not only the observation of temporal dynamics of three-dimensional (3D) subcellular morphologies but also quantitative measurement of living cells quickly and simply without any invasive treatment for labelling. Its ability to accommodate multi-well plate formats, incorporation of environmental controls, long working distance, high precision automated stage with fast stage control, large field-of-view, and laser autofocus system, unlocks unprecedented flexibility, accuracy, and repeatability of measurements in 3D time-lapse live cell imaging. Importantly, HT-X1 is an all-in-one system that does not require complex calibration procedures or intense training requirements and is supported by its own integrated data acquisition software, Tomostudio X.
Successful user experiences globally
Tomocube's new HT-X1 platform has been under development on an accelerated schedule since mid-2021. The product's domestic launch took place at the Korean Society for Molecular and Cellular Biology (KSMCB) 2022 in September and the European launch followed at the Spanish & Portuguese Advanced Optical Microscopy Meeting (SPAOM) 2022 in November. Both shows were a tremendous success for the product and the Company.
Researchers at the Scientific Center for Optical and Electron Microscopy (ScopeM) at ETH Zurich, some of the first users of the original HT-2 platform, opted to pre-order the new generation HT-X1. Summarizing the experiences since the HT-X1 installation in May 2022, Dr. Gábor Csúcs, Technical director of ScopeM, stated, "The advantage of observing cells and organelles in their intact and live state with little requirement for preparative steps makes the HT-X1 a powerful tool for long-term, comparative experiments. The new software, TomoStudio X, is easy to use and intuitive, which enables us to increase our productivity. I believe HT-X1 is a very powerful research tool for label-free imaging and see it as a good choice for imaging centers around the world."
The first HT-X1 evaluation in the USA was spearheaded by Ed Luther, the supervisor of the research laboratories, at the School of Pharmacy, Northeastern University, in Boston. Providing resources and services in quantitative phase imaging to various research groups for many years, Mr. Luther reflected upon his HT-X1 experiences in the context of utilization of other commercial holotomography microscopes. "In our work, we develop complex nano-formulations and visualize the effects on cells at the molecular level over time, as well as intercellular interactions and their microenvironment. The most important features of HT-X1 platform to me are the high-quality images and the algorithms, which generate true 3D tomography results and not projections of 2D data. To the best of my knowledge, none of the currently available alternative label-free analysis technologies offer this functionality. The ability to scan regions of variable sizes is particularly important. New and extremely useful features include automated calibration and autofocus for cellular and subcellular quantification. Our preliminary results suggest that the newly introduced HT-X1 platform will be a game-changer in the label-free imaging arena."
Meet Tomocube's HT-X1 at the scientific meetings, regional centers of expertise, and on-demand
Tomocube exhibited at Cell Bio 2022 on Dec 4-7 in Washington, DC, booth #918. The company's research poster "Label-free imaging of adipocyte differentiation process and lipid-droplet analysis using low-coherence holotomography" was presented in a scientific session on December 4. Other meetings will follow.
Tomocube's multi-disciplinary team operates in Korea, UK, and the United States complemented by a global distribution network. Live HT-X1 demonstrations in the USA are provided in the regional centers of expertise at Northeastern University, Massachusetts General Hospital, and through local distributors.