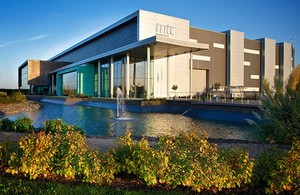 The UK Chancellor of the Exchequer, George Osborne, announced £60 million of new funding for the development of new high-tech aerospace technology at the Manufacturing Technology Centre (MTC) in Coventry.
The government will provide £30 million in funding, which will be matched by industry. It is one of the ways government and industry are working together through the aerospace industrial strategy to give businesses the confidence to invest, creating more high-skilled, long-term jobs in the UK.
The Chancellor made the announcement at a visit to the MTC, part of the government's "High Value Manufacturing Catapult" centres that promote high-end manufacturing in the UK, providing world-class capability and equipment, such as the world's largest commercial laser, which was seen by the Chancellor on his visit to the MTC.
The UK is currently number one for the aerospace industry in Europe and second only to the United States globally. The aerospace facility will allow companies to develop new materials such as lightweight carbon fibre for use in planes, jet engines and civil helicopters that will be exported around the world.
The funding will also support the creation of a national centre for additive manufacturing (3D printing technology), to develop new products for aero-engines and aircraft landing gears, as well as automotive and medical devices.
This investment is part of the £2 billion of joint government and industry funding for the Aerospace Technology Institute that will be invested in the sector over the next seven years. It will make sure the UK has the manufacturing capability needed to meet this growing global market, which already generates £24 billion a year for the UK economy.