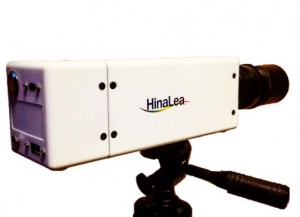 HinaLea Imaging, an international solutions provider of hyperspectral imaging technology, announced that the company will launch its Model 4200 Wide-Field Hyperspectral Camera at the International Geoscience and Remote Sensing Symposium (IGARSS) in Valencia, Spain on July 22-27, 2018. HinaLea Imaging will be exhibiting in Pavilion 5, Booth 4.
IGARSS 2018 is the 38th annual symposium of the Institute of Electrical and Electronics Engineers (IEEE) Geoscience and Remote Sensing Society (GRSS). IGARSS is now one of the largest international events in remote sensing and provides an ideal forum for researchers and professionals to obtain up-to-date information about the status of Earth Observation technologies.
HinaLea Imaging has introduced their new Model 4200 hyperspectral camera which features various lens options to match field of view and working distance requirements for laboratory and industrial applications. This new configurable system enables users in both research and industry to precisely tailor the instrument to their needs, while utilizing HinaLea's innovative technology capable of single-step capture of images with dynamically-defined spectral bands at high spatial and spectral resolutions.
The HinaLea system is the only front-staring band sequential hyperspectral system on the market which can scan the whole VIS-NIR (400 – 1000 nm) spectrum with high spatial and spectral resolutions at an affordable price point. The Model 4200 can also be programmed to scan only a subset of bands, and this subset can be dynamically controlled based on the object to be imaged. Resultant scans can be shorter with generally smaller data sets, saving customers time and money.
In addition, Hinalea will exhibit and demonstrate the easy-to-use handheld Model 4100H, a high precision camera with a built-in illumination source that captures high-resolution snap-shot images, yielding a spectrum at each pixel for the visible through near-IR (400 – 1000 nm) wavelength range in up to 550 bands. The portable Model 4100H can be used for nearly any application and features a fully programmable wavelength selection with fast data capture and no trade-off between spatial and spectral resolution.