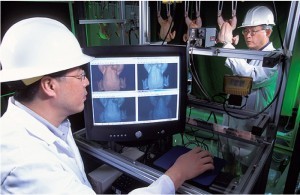 Hyperspectral Imaging and Applications Conference (HSI 2014) is the fourth in a series of conferences first held at the University of Strathclyde, Glasgow (Scotland).
HSI 2014 takes place 15 and 16 October 2014 in the Ricoh Arena, Coventry (UK). The aim is to bring academic and industrial users together to share their knowledge of innovation in Hyperspectral imaging technology. This conference is being held alongside Photonex, the UK's largest showcase dedicated to light technologies.
Hyperspectral imaging brings together conventional imaging and spectroscopic techniques, simultaneously capturing both spatial and spectral information about a material across a large range of spectral bands. Over the last two decades, the cost of systems has reduced considerably and when originally a technique only used by the aerospace, military and remote sensing communities; hyperspectral imaging is now an economically viable solution for a range of measurements within industries such as the pharmaceutical and food.
The aim of the technical committee is to attract excellent contributed academic and application related papers along with invited guest speakers to create an impressive conference programme, with a vibrant atmosphere for exchange of ideas and to stimulate future collaborations and industry links.
Call for papers
Original contributions are welcomed on all aspects of hyperspectral imaging. Contributions are welcome in the following, though not exclusive areas:
Antiquity Analysis
Biological applications
Chemical Analysis
Homeland Security
Food Technology
Geographical Information Systems
Industrial inspection
Medicine
Microscopy
Pollution Monitoring
Remote Sensing
Surveillance
To submit an abstract, go to the Hyperspectral Imaging and Applications Conference website.