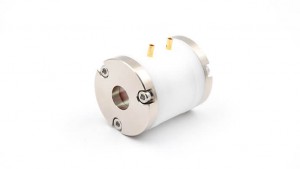 II-VI Incorporated, a specialist in laser optics and subsystems, today announced the introduction of its electro-optic modulators, based on proprietary crystal technology, for ultrafast lasers in materials processing.
Ongoing efforts to increase efficiencies in manufacturing are spurring the demand for next-generation laser systems that achieve faster materials processing throughput. II-VI's electro-optic modulators enable ultrafast lasers to generate a series of highly controlled energy pulses at rapid intervals to achieve precision machining tasks such as scribing, drilling, and marking at a very high speed.
II-VI leverages its electro-optic, acousto-optic, and magneto-optic materials and technology platforms to enable a wide range of ultrafast laser designs. II-VI's broad portfolio of components for ultrafast lasers includes seed lasers, wavelength-stabilized pump laser modules, matched chirped mirror pairs, dispersion-compensation prism pairs, diffractive gratings, and polarization-mode combiners. Ultrafast lasers can be converted from infrared to ultraviolet at 355 nm using II-VI's lithium triborate (LBO) and beta-barium borate (BBO) crystals.
II-VI will showcase its broad product line of engineered materials, lasers, and optics for materials processing, life sciences, consumer electronics, and automotive applications at the following upcoming conferences:
SPIE BiOS Expo, San Francisco, CA, Feb. 1-2, 2020, Booth #8131
SPIE Photonics West, San Francisco, CA, Feb. 4-6, 2020, Booth #1427
SEMICON Korea, Seoul, Korea, Feb. 5-7, 2020, Booth #B435
EALA - European Automotive Laser Applications 2020, Bad Nauheim, Germany, Feb. 11-12, 2020, Booth #3
Battery Japan, Tokyo, Japan, Feb. 26-28, 2020, Booth #A16-6