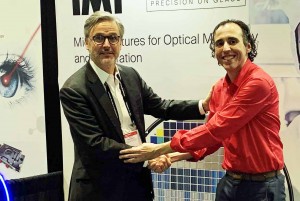 In this article, Jose Pozo, EPIC's CTO talks to Peter Kirkegaard, CEO of IMT, a Swiss-based leader in the fabrication of precision micro- and nanopatterned glass components for the photonics, medical technology, life sciences & biophotonics, sports optics and optical measurement markets.
Early career
After finishing his education in Denmark with a degree in Business and Technology, Peter went to Germany in 1989 to polish up his business and German language skills.
He worked as an Export Assistant for Samson AG, a company specialising in control valves and control equipment for the chemical and petrochemical, energy, district heating, oil & gas, pharma & biotechnology and the food industry.
In 1993, he went to Australia to assist in setting up a new subsidiary of his German employer in Sydney, Australia and after 12 months, moved to the newly founded Samson office in Singapore as Business Development Manager for the ASEAN countries.
On his return to Germany in 1996, he built up a group for special support for the foreign sales offices in Samson's Export Department, and one year later, received an offer from Carl Zeiss to move to Jena to become Sales manager of their Optoelectronic Modules Division, which at the time was launching a newly developed product line of rotary and linear optical encoders.
This was Peter's first job in optics, but it didn't last long as the Division was sold one year after he started. The new owner of the Division offered Peter the opportunity to move to Switzerland to restructure IMT, a small subsidiary they had recently acquired, which manufactured precision glass products such as photomasks, customized reticles and encoder discs.
IMT
At that time, IMT had around 35 employees and had suffered from 10 years of stagnation. Peter took on the mission of devising a plan for turning IMT around. As he recalls: "It was down to two options: either close the company or make the investments required to turn IMT into a company able to compete on the international stage with cutting edge technology".
Fortunately the decision was made to invest and over the next 5 years Peter and the IMT team were given quite free rein to rebuild the company by installing clean rooms and new equipment and developing new processes.
Company development
By 2003, the first restructuring was complete and since then, IMT has grown to a work force of around 120 and increased turnover from €6.5m to €26m.
But it hasn't at all been plain sailing. Initially, they focused on supplying micro patterns on glass for metrology systems, ophthalmology, linear encoders, rotary encoders, and large area photomasks for manufacturers of liquid crystal displays. At that time, big players like Philips were still manufacturing liquid crystal displays in Europe and photomasks formed a large part of IMT's business. But overnight, Philips decided to move their manufacturing to Shenzhen and sales of photomasks drastically declined over a very short period of time. Similarly, in 2003, IMT were making around €1m per year supplying projection test disks for eye test devices - this business has also more or less disappeared as opticians have moved from optical projectors to TV screens for eye tests.
These and similar experiences were an early lesson in the need to continually innovate to safeguard and prepare against components becoming redundant due to relocation of major customers or the introduction of a replacement technology.
For this reason, while keeping its roots in microstructuring of metallic and dielectric coatings on optical substrates, IMT has continually striven to complement and expand its core expertise with complementary technologies. Nowadays, IMT is a leading supplier of precision glass products including microstructured optical coatings, customized reticles, diffractive gratins, pinhole arrays, and Flow Cell for Life sciences and biotechnology.
The main applications are for the optical and photonics industry, medical technology, biophotonics & life sciences and sport optics sectors. But as Peter emphasises, IMT defines itself as a supplier of custom made microstructures on and in glass - the application is secondary. They see themselves as a foundry for making micro and nano patterning, and with 120 employees, their main goal is to 'fill the fab' whatever the application.
Milestones
One of IMT's most important milestones was the realization in 2011, that the capabilities they had for sub-micrometre patterning and glass processing and bonding, which until then had been used to manufacture components for optics and photonics, could also be used in life sciences and microfluidics applications - particularly genome sequencing. Initially, genome sequencing had used stochastically distributed starting points on a glass chip or in a channel on the glass chip. The forward thinkers in the Life sciences industry realized that structured nanometer patterns with defined density in the glass channel would provide much more effective log-on points for the DNA - thereby reducing overall cost and make DNA sequencing accessible for a broader market. Although located in Switzerland, IMT was able to penetrate the large companies in this new field and to establish itself as a company able to assist in enabling this disruption by using existing manufacturing technologies. At the time, there was a very narrow supply chain with very few potential partners as most of the required processes and equipment came from the semiconductor industry and the volume was not very interesting for the established semiconductor fabs. IMT did very well for a while supplying components to large manufacturers of genome sequencing equipment.
Despite the fact that several Life sciences companies have since decided to produce their glass components themselves, there still are many smaller companies looking for a highly skilled small, fast and nimble fab to co-develop and manufacture their glass components for biotechnology and Life sciences. This experience has reinforced the need to think outside the box and to look for other ways to use IMT's existing capabilities to enable new technologies.
In order to ensure top-of-the-line metrology and analysing capability, the company installed SEM for Ø200mm wafers, bevelling machines, an HF closed-loop etching system and laser separation equipment that allows debris-free separation of the glass chips. This was followed in 2016, with the installation of a bonding cluster, AOI, and a second HF etching system for 200mm wafers.
The Future
Production increase: IMT intend to continue their growth in photonics, life sciences and bio photonics and plan to enlarge their production area by 40% and increase the workforce to over 150.
Breakthrough technology: The company is currently involved with industry leading bio-science and microfluidics companies to develop breakthrough products. A general problem in the development of this type of product is the communication between the physicists/micro system specialist on the one side and the biologists and chemists on the other. A key success factor for IMT is the ability to understand the requirements of the application and then derive the information that is relevant to establish the specification to build the optimum component – they refer to it as "building and manning the bridge between physicist and biologists"
Standardisation for bio photonics: As Peter explains, unlike the semi-conductor industry, which has developed a common platform through standardisation, the bio photonics and microfluidics sector is still very much a cottage industry. The problem is that the various companies involved, for example manufacturing genome sequencing equipment or using gratings on glass for spectrometry, all use different set ups for their glass components. As Peter puts it: "We actively contribute to the standardization efforts in Life sciences and Microfluidics – we will continue to push for common standards so we can take bio photonics and microfluidics out of the cottage and into the mainstream".
Smart glass, automotive lighting and endoscopy: While market reports forecast rapid growth in these markets over the next 5 years, Peter is realistic about IMT's participation: "These markets will be huge, the companies developing products in these areas are big players, like Bosch, Continental and others. We will never have several thousand employees making components for automotive or life science, and there's no point in a small fab like us trying to get a piece of that pie because we will not be competitive".
But he does see an attractive opportunity to fill the gap for niche or small volume products. IMT is already supplying small apertures for flexible endoscopes and glass components for automotive lighting, and to maintain the position and increase production for these sectors, IMT will need to keep up with the technology and stay tuned in to market developments.
Location: Being based in Switzerland has been an important part of IMT's success. As they are close to Zurich's ETH, a world leading university in science and engineering, IMT has easy access to highly qualified talent as exemplified by 8 of their 12 R&D engineers being ETH alumni. This coupled with the fact that Zurich is an attractive city has made hiring and retaining personnel relatively easy.
However, with a workforce of 120, the company has inevitably considered the benefits of moving its production to another country with lower salaries. That is not on the cards for two main reasons. First, each piece of equipment used for micro & nano patterning costs around €750,000, so what they would save in salaries would be eaten away by investment in new equipment for a second location. Secondly, IMT is a very high mix and low volume manufacturing company and almost everything they do requires highly trained personnel. As a result, moving out of Switzerland would create problems in recruiting, training and retaining talent.
What would you do differently if you started again?
"For me personally, I would realize that I cannot and shall not do everything myself, that I as a manager have the role of moderator and not the role of "I will fix it if nobody else can" - meaning that it is necessary to get a team together to reach any target. Secondly, I would look for a mentor a lot earlier in my career to help me with my personal and career choices and to give advice on business decisions".
What are your words of wisdom for the next generation of entrepreneurs?
"First, stay hungry and stay alert. Don't ever be satisfied with what you have, somebody will come and take it."
"Second, most of the time I go home happy because I've had the privilege of putting together my own team and I love what I do. As someone once said: "do what you love, with people you like at a place where you belong" – that pretty much sums up my working life."
Written by Jose Pozo, Director of Technology and Innovation at EPIC (European Photonics Industry Consortium).