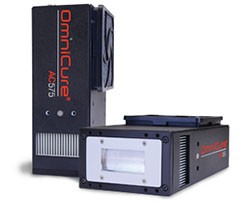 Excelitas Technologies, a global technology provider of customized photonic solutions, will showcase its range of OmniCure UV LED curing systems at InPrint Milan, MiCo – Milano Congressi, Milan, Italy, 20–22 November 2018.
Products on display at Excelitas' InPrint Milan Stand 138 include:
New OmniCure AC8-HD (high dose) Series of UV LED Curing Systems
Offering higher optical power and enhanced performance in the same air-cooled mechanical enclosure as its AC8 and AC9 predecessors, the AC8-HD delivers more than 50% more dose with optical uniformity. Excelitas' patented control technology for addressing individual UV LED modules enables an outstandingly tight irradiation across the UV emitting length, as well as between heads. The light source is suitable for large-area curing of inks, adhesives and coatings.
OmniCure AC5 Series UV LED Curing Systems
Designed with high-output LEDs and custom optics, the OmniCure AC550/P and OmniCure AC575/P air-cooled UV LED curing systems provide high irradiance (14W/cm2), enabling manufacturers to achieve high productivity and reduce running costs using LEDs with long lifetime and lower electrical consumption. OmniCure AC5 Series LED systems are suitable for curing inks, adhesives and coatings in printing applications, such as labels, bar coding and package printing, and for industrial and electronics manufacturing applications.
OmniCure AC9 Series UV LED Curing Systems
The design of Excelitas' OmniCure AC9 UV LED Systems includes a high-performing, small form-factor, air-cooled solution to enable faster line speeds in printing and industrial manufacturing. OmniCure AC9150, AC9150P, AC9225, AC9225P, AC9300 and AC9300P UV LED curing systems feature advanced front-end optics to provide high-power, high peak irradiance of more than 14 W/cm2, and uniformity for fast curing of inks, adhesives and coatings.