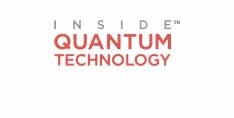 3DR Holdings today announced details regarding the second annual edition of Inside Quantum Technology Europe, the premier conference dedicated to the business of quantum computing, quantum networking, quantum sensors, and quantum technology.
Following its 2019 European debut in The Hague, this year's Inside Quantum Technology event will be Europe's largest online quantum technology event, featuring five days of presentations that will run for 4 hours daily, with archived sessions available to all registrants through the end of November.
Launching on October 26 with exhibitor presentations and virtual networking, each day is vertically focused on Quantum Computing (10/27), Quantum Computing Software and Applications (10/28), Quantum Communications (10/29), and Quantum Sensors, Quantum Policy and Quantum Investments (10/30).
In addition to sessions led by leaders from the worlds of research, academia, finance, pharma and technology, Inside Quantum Technology Europe features presentations from top executives and technologists at the industry's pioneering companies, including QuTech, D-Wave, QC Ware, Cambridge Quantum Computing and Riverlane.
Further, attendees will have the opportunity to learn about quantum initiatives from innovators at the world's leading corporations, including:
Robert Sutor – VP, IBM Quantum Ecosystem Development, IBM Research
Bettina Heim – Senior Software Engineering, Microsoft
Ravi Pillarisetty – Senior Research Scientist, Intel
Philip Makotyn – Senior Quantum Marketing Manager, Honeywell
Taro Shimada – Corporate VP and Chief Digital Officer, Toshiba
William Zeng – Head of Quantum Research, Goldman Sachs
Inside Quantum Technology Europe conference session topics include:
Inside Quantum Technology forecasts of quantum computing, software, applications, sensors, QKD and PQC markets
Emerging technologies and companies in quantum computing
Evolution of operating systems for quantum computers
User experiences: Financial services, aerospace, automotive pharma, chemicals
Evolution of the Quantum Internet
Applications and use cases for quantum communications
Quantum sensor evolution
Quantum policy in Europe
VCs and the quantum sector in Europe