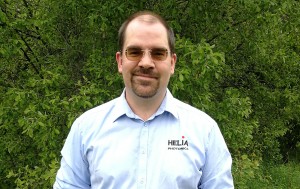 In this article, Jose Pozo, EPIC's CTO, talks to Caspar Clark, CEO of Helia Photonics, a leader in coatings for semiconductor devices, optical fibre ends and free space optical components.
Early career
After graduating with a BSc Physics & Microelectronics in 1997, Caspar joined Thales Optronics first working in software then advanced optical coatings. His job involved work on infrared optical coatings for defence applications, which included everything from thermal imagers for submarines, tanks and aircraft to laser designators and displays.
Two years later, he was offered a position as an engineer at Terahertz Photonics Ltd, working in optical coatings for the telecoms industry. At Terahertz, he worked with external cavity lasers, semiconductor optical amplifiers, FPs and DFPs etc. and gained some useful insights into both the good and bad sides of manufacturing processes and running a company.
But then, in 2002, came the telecoms crash - investment in telecoms dried up and very quickly the company ran out of money and closed down. Fortunately, Caspar was invited to work with Prof Gerald Buller and his group at Heriot-Watt University on a quantum cryptography project involving work with single photons.
Helia Photonics
While working at the university, they started to receive enquiries from several companies who were looking for the type of optical coatings Caspar had been working on at Terahertz. It quickly became apparent that there was a huge unmet market need in this area, and so in 2002, Caspar and Gerald decided to set up Helia Photonics. As Caspar puts it: "For us, it was a kind of no-brainer, we already had customers lined up from the very first day that we opened the door, which was a fantastic position to be in"
Initially, they wanted to focus on high efficiency anti-reflection coatings, but this market was not as big as anticipated and they branched out into coatings for high-power lasers, which surprisingly would become their biggest market.
Although it was difficult in the early 2000s to find investors, they managed to secure an initial investment of £1.5m, which was enough to see them through the early stages.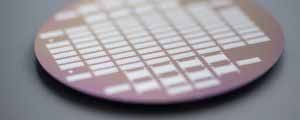 Over the past 18 years, Helia Photonics has developed a loyal customer base of more than 350 worldwide and now operates out of a 8,000 ft2 purpose-built, state-of-the-art facility in Livingston, Scotland. During this period, the company has expanded its range of coatings from ultralow anti-reflection (AR) coatings for external cavity lasers to laser lifetime-enhancing protective facet coatings and optical coatings for fibre-ends, micro-optics and supporting services for diode lasers.
Helia's success
Caspar puts Helia's success down to the following factors:
Constant innovation: Helia does a lot of internal R&D, because as Caspar explains, the weakest point of a diode laser and critical for reliability is its facet, optical coatings are key to their protection. With optical fluences over ten thousand times that of the surface of the sun these coatings need to be very high purity, low absorption, low scatter and consideration of the electric field distribution must be made in the design. Not only do these materials take a lot of time and money to develop, there is also the constant need for R&D to find new materials and to develop new and better processes in order to keep up with the ever-increasing optical power, which very closely follows Moore's law.
Quality and expertise: Over the years, Helia have built up considerable knowhow and experience which has given them a competitive advantage. For example, in 2010, after trying one batch from Helia, a US customer was so impressed with the quality that they closed down their own optical coatings department on the grounds it would be much more cost-effective to continue out-sourcing to Helia.
Qualification for the automotive, space and medical sectors: Getting qualified for these markets was a real milestone for the company. These sectors all require excellent process control for reliability and repeatability. While there is no room to change these processes once qualified there is always a requirement to improve performance for the next generation of devices.
Expansion into other markets: With a global customer base, Helia have had the opportunity to explore a variety of different markets, expanding into areas such as polishing and coating of solid state media such as ruby, Nd:YAG, BBO and PPLN developing high laser damage threshold resistant coating for these applications. They have also moved into some niche free space optics and some quite complicated filters for a variety of applications. Then came work on silicon photonics and photonic integrated circuits.
Future challenges
Scarcity of talent: For Caspar, finding people with the right skills is a big headache. As a visiting professor at a local university, he tries to encourage young students to go into laser physics, but it's proved difficult. Similarly, Helia was one of the founding members of Technology Scotland, principally with the desire for new talent and which has since aimed to address the skill shortage issue on a national infrastructure basis.
Future opportunities
Development of Helia products: Peaks and troughs in demand from customers create scheduling problems and difficulties in managing internal resources. For this reason, Helia are slowly developing their own products, not to compete with their customers, but to have products that can remain on the shelf and be sold as needed.
Development new optical coating techniques: Optical coating technologies are always evolving. Helia build all their own deposition systems so have great flexibility in integrating new techniques as they become useful. Currently Helia are building a microwave assisted Electron Cyclotron Resonance (ECR) tool for high performance UV coatings and recently a high-energy Plasma Ion Assisted Deposition (PIAD) tool for 8" wafers which grows near-bulk materials. New techniques require ever more precise characterisation and Helia collaborates closely with the University of the West of Scotland, the University of Strathclyde and Glasgow University for access to new methods of analysis.
Markets: Helia will continue to focus on key markets that require a lot of reliability and qualification and a wide range of wavelengths and coating materials. Helia's key strength is their flexibility between different wavelengths, anything from 170 nanometres in the UV up to 30 microns in the far infrared and the 130+ different coating materials that they have available to cover those wavelength ranges.
If you started again, what would you do differently?
"I'd join EPIC earlier as EPIC has been a really key organisation for us".
"I think we'd also invest more heavily in automation and robotics earlier on. It's something that we do now, but it's something that there wasn't really an appetite to do earlier in the company's history".
"We were running some processes at a loss for several years, which is an important mistake for a company to make. To avoid this, I'd spend more time reviewing the costs behind processes, to better understand their real cost".
What words of wisdom do you have for the next generation of entrepreneurs?
"First, go to a large multinational corporation where you'll get excellent training and unparalleled experience: You'll have to give a lot, but you'll get a lot back in return. In particular, you'll meet incredible people who will become part of your future network".
"Second, chose the right type of investors. In my experience, things can go very wrong. Make sure the investor is appropriate for the expected lifetime of your product or service. Have a jointly agreed exit strategy and be aware of their expectations in relation to return on investment, in terms of timescale, capital and growth. Try to find investors who are genuinely interested in your company and in your technology and not just in the money".
"Third, be very prepared not to sleep. Certainly, in the first year of Helia, I didn't take a day off and I was in every weekend and regularly worked over 24-hour shifts. It can be very exhausting and depressing, but don't give up".
"Finally, hard work and opportunity can make you a CEO, but it's your team that keeps you there".
Written by Jose Pozo, Director of Technology and Innovation at EPIC (European Photonics Industry Consortium)