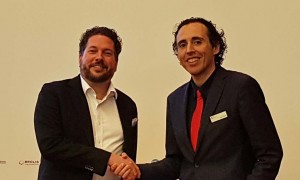 Unlike most CEOs of European photonics companies, Steven Goetstouwers is neither an engineer nor does he have a technical background. A native of Belgium, he studied at the University of Hasselt in Belgium and took a degree involving a mix of business and technical courses but with the main focus on entrepreneurship. He specialized in the internationalization of small companies and after graduating, worked at Maastricht University for 18 months helping people create business plans. Afterwards, he became a Project Manager for LIOF, a regional development agency with a venture capital fund focused on innovative companies in the south of the Netherlands. Initially tasked with pre-seed funding, he was later entrusted with the entire start-up fund to look for companies to invest in.
One of these start-ups is Admesy, whose founders were already known to Steven from his days working in Maastricht University when Steven had been consulted as to the soundness of a business plan, which Steven rejected. But during his time with LIOF, he was approached again, this time with a plan that Steven found so amazing he became the first investor. The company was Admesy and Steven was elected onto the company´s advisory board.
At that time, Admesy was a technology-driven company dominated by engineers, but that changed when the company got around the table with a big electronics player and found out that negotiation required skills other than engineering. So Admesy shifted its viewpoint and Steven was invited to become the new CEO when one of the founders previously tasked with the role left the company. In December 2012, he left his job at LIOF and gladly accepted the position.
A skilled negotiator with a keen eye for business
Steven credits his business background as giving him the negotiating skills to excel as CEO and one of the reasons he was asked to join Admesy. His background gives him the ability to look at things from a distance and help technical people like their current CTO to create technical solutions based on a sound business model.
If you want to be with the big players, you must act like one...
In contrast with other top level executives in Europe, Steven finds it relatively easy to deal with Asian executives and has been successful in exporting to big electronics companies in Asia. Although Admesy is a medium-sized company with around 39 employees, Steven´s philosophy in dealing with big companies is simple: if you want to be with the big players, you must act like one. He said that Admesy´s success in establishing trust with its customers lies in its ability to deliver quality products faster than its competitors, even the large companies.
What Steven would have done differently
If he could turn back the clock to 2012, when he became a CEO, Steven would have had Admesy invest faster and harder. He wishes he had taken more risks because Admesy was a bit too cautious during the first three years of his term as CEO. Now, Admesy has a cleanroom for production and it took a huge investment to build it. Looking back, Steven would have made the investment one or two years earlier with all the risks involved.
Steven´s take on why it is wise to invest in photonics
Steven believes that a photonics company is good to invest in because of its ability to develop new products. If a photonics company has a good product development engineer, it can always figure out another product in the event that the first product doesn't work out well. But this isn't the case with something like software because it's all or nothing: if it turns out to be a dud, there is no plan B and the company fails. So Steven thinks it's better to invest in a company that has the flexibility to adapt and create, like a photonics company.
Advice to young European entrepreneurs
Young entrepreneurs in Europe look up to successful CEOs like Steven and he would like to share his simple recipe for success with those who are dreaming of becoming a CEO themselves: come up with your own idea or if you don´t have one, find someone you feel is the right person to team up with. More than anything else, Steven considers it essential for an entrepreneur to find someone who's good at solving problems that a company may encounter down the road.
Admesy provides its customers with innovative test & measurement solutions tailored for colour and light measurement in production processes. It has been the mission of Admesy since the company was founded in 2006 to seek stable, reliable and accurate measurement devices. Within a decade, Admesy has become a well-known brand for a range of user-friendly and robust light and color measurement devices. The current product portfolio includes light meters, spectroradiometers, colorimeters and 2D imaging colorimeters as well as accessories like stabilized light sources and integrating spheres.
Written by Jose Pozo, Director of Technology and Innovation at EPIC