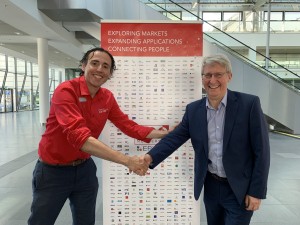 In this article, Jose Pozo, EPIC's CTO, talks to David Robinson, CEO of Arden Photonics a UK-based company that is a leaderin the manufacture of high-end testing and characterization equipment for optical fibres and lasers.
After graduating with a BSc in Physics from the University of Manchester in 1979, David started his career in fibre optics as a test engineer for Pirelli Cables in Southampton, UK. For the next four years he worked mainly on testing and characterising single-mode fibres and in 1983 moved into the mass production of fibre optics gaining experience in a range of manufacturing technologies.
His next job was with York Technology, where he worked from 1989 as a project manager responsible again for the testing and manufacture of fibre optics. York technology was considerably smaller than Pirelli and this gave him the opportunity for direct contact with customers - listening to what they wanted and finding solutions to their problems.
Arden Photonics
David enjoyed this part of his work, which gave him whole new perspective on the photonics industry, and after working as a test engineer in another industry, in 2001, he set up his own company, Arden Photonics to provide a range of fibre optics test equipment.
As David recalls, setting up Arden Photonics was an exciting but demanding process. Each day took him a step nearer to his goal of making the company a reality. Finally, he took the plunge and following a move to Solihull in the West Midlands, UK he began trading in September 2001.
The technology
The basic vision behind the company came from an awareness that because the testing of photonics products was relatively slow and expensive there was a gap in the market for new metrology methods to make testing cheaper and more efficient.
After listening to what his customers needed, David began to design and manufacture a range of quality components and instrumentation for the measurement of a wide range of properties of optical fibres and lasers.
Since these early days, Arden's portfolio of equipment has grown to include equipment for the test and measurement of multimode launch condition; fibre and array geometry; and the performance of optical coherence tomography. The company also provides equipment for interferometric inspection of fibre end faces.
Arden also provides a range of services covering measurement services, software design and system integration, optical design and comprehensive technical support for its products and the company now has global reach with customers in Europe, the US, Canada and China operating in industry, aerospace and the medical sectors.
Challenges: Past and future
Difficulty in finding trained personnel. While Arden now has a highly skilled and efficient team, historically, one of the main challenges has been the difficulty in finding and recruiting skilled personnel. This has been due in part to the company being located in the West Midlands which is strong in areas such as automotive but is not currently a photonics hot-spot. As David says:
"Finding people with enthusiasm and the right attitude has not been the problem. But a lack of basic skills has required a lot of time spent on training particularly in manufacturing and product verification. As a result, I now have a loyal and talented team but getting to this point has taken longer than I had expected".
For David, one possible solution to this problem is for companies like Arden to market themselves more aggressively. Although organizations like EPIC and the UK's Photonic Leadership Group (PLG) are doing a fantastic job promoting the photonics industry, David believes that it's time for individual companies like Arden to take up the mantle and do their part to promote the industry.
Automation
As David points out, testing in photonics is very different from testing in electronics: whereas electronics testing is a binary yes/no assessment (the component either works or it doesn't) testing in fibre optics is closer to a type of characterization that in many cases relies on a subjective decision of the machine operator.
The problem is that testing is related to certain parameters and characterisation depends on variables such as the type of connections and what the fibre is going to be used for. As David adds:
"At the moment, even for standard products, photonics testing is still largely a manual, skill based process and it may take a long time for for fibre testing to reach the level of binary yes/no testing they have in electronics".
There is also the challenge of fibre diversity, both in terms of structure and composition (e.g. active fibres, multicore fibres, photonic crystal fibres, polymer fibres and many others) as well as the wide range of diameters (e.g. from 2.5 to 1,000 microns). These variations make the automation of testing and characterisation extremely challenging.
The future
David is confident about the future because from recent trips to conferences and customers abroad he can see drivers for Arden in several areas:
Specialty fibres: Arden operates in a niche market and so it's essential to continually expand the company's portfolio by investing in new products, particularly test equipment for the wide variety of specialty fibres.
The medical market: David sees an increase in demand for fibre in areas such as Optical Coherence Tomography and endoscopy. Even though this is not currently a high revenue area, Arden will remain interested in this sector as it will expose the company to a market with high growth potential.
Increase in fibre optic cable production: the increasing number of companies creating their own drawing towers for fibre optic production is a good sign for the industry and a great opportunity for Arden
Femtosecond lasers: David anticipates a rapid increase in demand for femtosecond (ultrashort pulse) lasers for use in data storage. As the only reliable way of making femtosecond lasers is by using fibre lasers, there will be a corresponding increase in demand for accurate and reliable test equipment of the type produced and supplied by Arden Photonics.
Faster than average growth: Taken together, the push for speciality fibre optics and lasers will bring about a corresponding increase in test and characterization issues. One of David's main aims is to make Arden Photonics the international company of choice to resolve these issues and thereby to grow the company faster than the industry average.
What would you do differently if you could start again?
Location: "It's sometimes said that it's possible to set up a technology business anywhere. But if I could start again, I'd set up in an established photonics centre such as Southampton or Glasgow where there's a ready supply of the type of Engineers I need".
Started sooner: "I would have started sooner than I did: it's surprised me how long things have taken to get to where we are now".
Advice. "I would have put much more effort into surrounding myself with an advisory team earlier than I did. I have some great advisors now and its making a big difference to our ability to assess external risks and opportunities".
Joined EPIC sooner: "I would have put more effort into developing networks. Joining EPIC was a fantastic move and has been a large transformation. Since we joined three years ago, more people have contacted us than ever before"
More aggressive marketing: "I'm more of a science engineering type of guy and marketing is not something that comes naturally. But I've come to realise marketing is very important - for sales, recruitment and photonics in general. Of course you've got to get your core technology right but once that's done, you've got to focus on marketing".
What words of wisdom do you have for the next generation of entrepreneurs?
"Listen to and be driven by your customers".
"Don't wait for the perfect time. Start your company and build a team as early as you can".
"Pay attention to marketing and join EPIC as soon as you can to take advantage of its member networks".
Written by Jose Pozo, Director of Technology and Innovation, EPIC