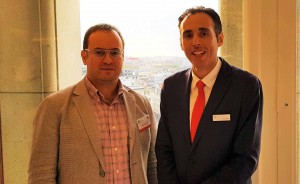 In this interview, Jose Pozo, CTO of EPIC, talks with Vicente Calvo, founder and CEO of Comptek Solutions a Finnish company specialising in III-V compound semiconductor surface engineering processes.
Background
In 2000, Vicente graduated from the University of Zaragoza with an MSc in Industrial Engineering with a speciality in Design of machine and vehicle.
During his last years of studies, he hold a researcher position in the mechanical eng department of the University performing mold flow analysis and design of plastic parts and molds. On graduation, due to the chronic shortage of mechanical design engineers in Europe, Vicente was hired by Altran group to work as a consultant in Belgium advising companies like Philips and Techspace Aero on mechanical design and management of product validation test procedures.
As Vicente recalls: "In the early 2000s, because of the scarcity of mechanical engineers there was a huge market in the Benelux countries for contract mechanical design engineers and companies would pay the earth for design consultants for work that was not that specialised"
For Vicente, the experience of working in different cultures for different companies on a variety of projects was particularly important as it broadened both his skill set and cultural awareness.
In 2003, Altran offered Vicente a move back to Spain to take up a more senior role within the company. However, due to a variety of personal and professional reasons, Vicente decided to stay in Belgium and accept a position with Newell Rubbermaid, where he worked as a senior design engineer on the design of user friendly machines to be used in DIY stores.
This was another formative experience as it was where he first learnt the value of being analytical, i.e. rather than 'fire fighting' with attempts to modify an inadequate existing machine for cutting window blinds, to sit down, analyse what was needed and design a new machine from scratch.
Finland
In 2004, Vicente moved with his Finnish fiancé to Finland, where he worked as a senior mechanical design engineer for Sasken Finland, specialising in mechanical and thermal design for electronics tasks. Not surprisingly, their biggest customer was Nokia and one Vicente's first tasks was mechanical and thermal design work for one of Nokia's first Smartphones, the N95.
Nokia
In 2008, after completing a Masters in Finite Element Methods, he accepted an offer to work for Nokia full time, firstly as a Specialist and later as Principal Engineer on the mechanics for display and touch solutions. As he recalls, it was an exciting time as the job involved working on the integration of displays for touch screens for Nokia's smart phones - a completely new area that required learning a lot in a short time about technology, design and the complexities of supply coordination.
Microsoft
But it wasn't to last: in 2014, Microsoft acquired Nokia's phone business and there were a lot of layoffs. Fortunately for Vicente, he was asked to stay on as his work with Nokia had been directly related to new technologies and concepts that meant going beyond the boundaries of the market. Vicente stayed with Microsoft for two years, firstly as a Principal Engineer and then as Lead Innovator on integrating and scouting for new technologies for touch screens and the development of new assembly and production processes.
Sadly, in 2016, Microsoft announced it was moving operations to the US. This move was part of a wider trend of consumer electronics manufacturing moving out of Europe, which EPIC and many other European organisations saw and continue to see as alarming. In fact, the loss of Europe's hi-tech manufacturing capability epitomised by Nokia was one of the driving forces behind the creation of EPIC and its aim to promote the sustainable development of a European photonics industry.
For family and professional reasons, Vicente turned down Microsoft's offer of a job in the US. He started to work in his own consultancy firm, VCA consulting, to provide engineering services with focus on touch screen technologies for customers in Finland, while during his spare time he was already trying to draft the first business plan for Comptek Solutions.
Comptek Solutions
In 2016, at the time Microsoft announced it was leaving Finland, Vicente was invited by Jouko Lång, a colleague and member of his team from Microsoft, to co-found Comptek Solutions with him and the other co-founder, Johnny Dahl, with the aim of providing novel and revolutionary passivation process for the compound semiconductor industry. Jouko and Johnny had been active in research on compound semiconductor materials and surface engineering at Turku University since 2008, and Jouko is the main inventor of Comptek´s core technology, and as Vicente puts it:
"Although semiconductors were a completely new field for me, Jouko invited me to join the company because he knew from our days at Microsoft that I could push things forward and make things happen.
As CEO, Vicente was to provide organization, professional management, look for funding and take care of business development.
Passivation
A fundamental problem of using III-V materials e.g. gallium arsenide, indium phosphide and Gallium nitride, is that when they are exposed to oxygen, an oxidation layer forms as an amorphous structure with high density of electrically active defects. These defects cause a loss in efficiency, which limits the performance of the semiconductor and reduces manufacturing yield.
To overcome these challenges, Comptek Solutions provides a proprietary surface engineering process that results in a crystalline oxide reconstruction of the material surface that is stable under exposure to oxygen with between 95%- 98% fewer defects than traditional passivation processes.
Customers
Comptek's services are used by customers working with compound semiconductor technologies in a range of applications such as radio frequency for 5G wireless communication circuits and optical data transmission; power electronics applications, where III-V compound semiconductors are essential for greater efficiency in switching power converters; transistors for next generation microprocessors, due to the move from silicon to III-V compound semiconductor materials for enhanced electrical performance of the transistors; and concentrated photovoltaics, where target efficiency levels of ~40% can only be ensured by using multijunction cells composed of III-V compound semiconductors materials.
Optoelectronic applications
However, due to the market pull received during these 2 years of the company, Comptek's main focus is on optoelectronic applications (microLEDs, image sensors, optocouplers, IR components, laser diodes etc.) because the main problems of these applications arise from defective interfaces and surface recombination effect on the sidewalls of the devices. Their principle customers are currently for microLED and Laser applications. For InGaAlP microLEDs Comptek has proven the benefits of its technology, branded as Kontrox, achieving increase of efficiencies of 300%. Its target customers are foundries, IDMs (integrated device manufacturers) and companies involved in the whole value chain.
Future projects
In addition to microLEDs, Comptek is currently working with laser makers on projects to improve the laser facet passivation, what results in higher power output of high-power lasers and the use of laser diodes for medical applications, which they see as upcoming growth areas. Another perceived growth area is indium phosphide and the company is currently researching how to effectively passivate indium phosphide based infrared detectors in order to reduce the dark currents especially during harsh environmental working conditions.
Role of EPIC
For Vicente, thanks to EPIC, Comptek has been very successful in the last two years, interacting with other companies to develop synergies and embark on some interesting collaborations. He believes that EPIC has played a crucial role in both facilitating this interaction and enhancing the status of the company and adds:
"EPIC has played a big role in our success: through its workshops and networking events, EPIC has opened a lot of doors for us and created a lot of sales leads".
What would you have done differently?
"I'm happy with what I am today and what I've achieved but of course things could always be better. One thing I might change is the technology path I followed. If I had chosen a different path, I might have been able to bring more added value to Comptek.
Looking a bit back to my career I think I would have extended my first contract with Philips Research center to continue the work in the research project about blu-ray instead of quitting early to go back to Brussels.
What words of wisdom do you have for budding entrepreneurs?
"First, as the CEO of a start up you will need the ability to multitask, not just to do what you've been used to do in your previous job/research. You will need to get out of your comfort zone and do many different things, some you don't particularly like, so be ready for it.
"Second, be analytical. It won't be easy so think of all the potential difficulties ahead and how you will manage them. ".
"Third, being an entrepreneur is not for everyone. You will need the right attitude and personality to drive things forward and to persevere when the going gets tough. Remember the success rate of startups is only around 10%. Involve your family because you will need their support ".
"Fourth, think early about your business case and supply chain - know who your potential partners, suppliers and customers are, what they want and most important, what is the added value that you can provide".
Written by Jose Pozo, Director of Technology and Innovation, EPIC