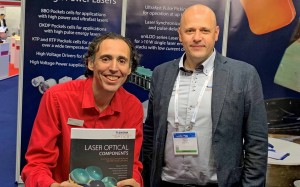 In this interview, Jose Pozo, EPIC´s CTO, talks to Dainius Tumosa, CEO of Eksma Optics, a global supplier of precision optical components and optical systems for high power laser applications.
Early career
After graduating with a Master´s in physics from Vilnius University in 1997, Dainius´s started work as a laser engineer for Ekspla, a manufacturer of lasers and optoelectronics for R&D and industrial applications. Over the next 4 years, Ekspla´s CEO became impressed with Dainius´s talents and commitment to the company and, recognising his management potential, persuaded Dainius to study an MBA in Economics.
Dainius is still very thankful for this opportunity because the MBA changed his life and gave him a broad understanding of company structure and leadership. But in fact, Dainius didn´t need much persuading as he wasn´t particularly enamoured with the idea of doing a PhD, and an MBA would give him the chance of a management position and an increase in salary and responsibility that would go with it.
As he says, "At that time, salaries were much lower in Lithuania than in a western Europe, the company had some good products that needed promoting and despite the collapse of the telecoms market, I saw a really good opportunity to help grow the company".
Six months after finishing his course, Dainius was offered a management position and his career took off: first from senior laser engineer to head of laser division, then to head of quality control and finally to head of the Optics Department.
Eksma Optics
In 2008, after discussions with Dainius and other senior managers, Ekspla´s shareholders set up a new company, Eksma Optics, to manufacture optical components for Ekspla and for export and Dainius was appointed technical director with responsibility for R&D.
In most photonics companies, the normal career path for managers is to move up the value chain from the component to systems to the final user, but for Dainius, it was the other way around as he had to apply his know how of the system integrator to the manufacture of components.
However, Dainius saw this challenge as an opportunity - not only to do something different - but also because his experience on the systems side gave him invaluable insights into customer´s problems and what they needed from components in terms of quality and reliability. Over the next 5 years, Dainius worked on a range of innovative products, including the now ubiquitous Pockels cells, with a particular focus on internal quality control systems to ensure that EKMA´s products would meet the exacting quality standards of both Ekspla and customers abroad.
Today Eksma Optics UAB is a manufacturer and global supplier of precision laser components used in lasers, laser systems and in other photonic instruments. Its product range includes laser optics for high power applications, Pockels cells, drivers and ultrafast pulse picking systems, laser media & frequency conversion crystals, optical systems, opto-mechanical mounts, motorized stages and tables. Eksma Optics owns clean room facilities for electro-optical components assembling, IBS coating facility, polishing facility of flat optics and laser crystals and polishing facility of spherical and aspherical surfaces.
Promotion to CEO
in 2013, Dainius was asked to move into the driving seat and become company CEO. He was initially reluctant to give up responsibility for R&D and take on the responsibility, but he had a clear vision of himself as CEO and wanted the opportunity to use his technical and managerial experience to drive the company forward.
As it turned out, his initial fear of losing contact with product research were unfounded as he is still very involved in the R&D side, as exemplified by a new project he has recently initiated on Pockels cells - a technology he introduced while still at Ekspla: "R&D is the future of the company because what we are doing in R&D now will become the products that we will sell in 5 - 7 years´ time.
Role of CEO
For Dainius, the most interesting and critical aspect of his job as CEO is the challenge of convincing the workforce to accept his ideas and vision for the company. "When you are a CEO, you are managing both ideas and people and the most important part of my job is to make sure we are all pulling together in the same direction and following the same strategy. To this end, Dainius considers his main task as motivating his employees, which he sees as a very individual process that requires a variety of approaches according to the psyche of each employee. But whatever form this may take, Dainius´s one cardinal rule is never to demotivate the workforce.
Eksma´s technology
Over the last 6 years, Dainius´s mission has been for EKSMA to become a technically advanced and reliable manufacturer in three main areas: optical components, e.g., mirrors, lenses and coatings; electro-optics, i.e. Pockels cells pulse picking systems; and laser electronics
Optical components
IBS coatings: One of the main growth areas for optical components has been the use of advanced ion beam sputtered (IBS) technologies for deposition of high damage threshold coatings on optical and crystal elements. For Dainius, EKSMA´s purchase of their own IBS coating machines has been one of the best investment decisions they´ve ever made because it has enabled the company to compete effectively in the growing market for IBS optical coatings.
But as he points out, the machines by themselves do not produce the coatings: what´s equally critical are the people with the expertise to make the coatings and the environment in which the process takes place. The environment needs to be ultra-clean and the substrates need to be properly prepared - if not, it´s impossible to produce low absorption high damage threshold coatings. For this reason, EKSMA have invested in new clean-room facilities, which will come on-line in 2021.
Components for femtosecond laser applications: Another growth area has been the demand for components for femtosecond and YAG laser systems and Dainius has ensured a strong presence for EKSMA in these markets. As he says, "It´s all about visibility in the market. Sure, there are other manufacturers that can do the same as us, but we need to be visible and able to provide a comprehensive range of components that are all in the same place and easy for the customer to select".
Electro-optics
This family of products has been entirely customer led. As Dainius explains: "We first started to sell just Pockels cells but then customers began asking for drivers for the Pockels. A little bit later they needed high voltage power supplies and then pulse picking systems that could be synchronized with laser operations".
Laser electronics
In this sector, EKSMA have developed a range of proprietary (OEM) equipment, which Dainius sees as an important future growth area for the company. Their proprietary equipment includes universal laser diode driver and laser synchronization modules and pulse delay generators. Most recently, they have introduced a high voltage power supply especially designed for powering of drivers of Pockels cells.
What would you do differently if you started again?
"I could have done my MBA earlier but for me, the biggest benefit of doing the MBA was to find some solutions to some real problems and without previous work experience the problems would have all been theoretical".
"As for my career, I´ve been lucky to be in the right places at the right times. In terms of the company, it´s very difficult right now to say what we could have done to make things better. Fortunately, we haven´t made any major mistakes, our business is profitable and growing and we have big plans for the future".
"We´ve also been lucky to be in Vilnius one of Lithuania´s hubs for photonics technology. In the last 20 years we have seen an explosion in the number of laser system manufacturers and start-ups, which have given us scope for a lot of collaborations and made it a lot easier to find employees with right talents".
What are your words of wisdom for the next generation of entrepreneurs?
"Everything starts from an idea, but in most cases the idea is not enough. Many entrepreneurs make the mistake of falling in love with their idea without getting confirmation that the products or services emanating from the idea are in demand. So it´s important to talk over your idea with broad minded people who have experience of the market and once you get confirmation that your idea has a good chance of being profitable, then go for it".
"Don´t be afraid of making mistakes. Everybody makes mistakes, but make sure you learn from them (and other peoples´) and remember it´s better to make mistakes when you´re young than when you´re older.
Written by Jose Pozo, Director of Technology and Innovation at EPIC (European Photonics Industry Consortium)