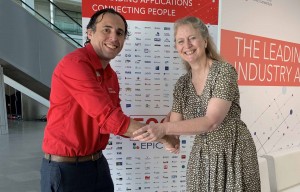 In this article Jose Pozo, EPIC's CTO, talks to Dr. Ruth Houbertz, CEO & Managing Director of Multiphoton Optics.
After studying a degree in Physics at Saarland University in Saarbrücken (Germany), in 1989, Ruth moved to the Ludwig-Maximilians University (LMU) in Munich and to University of Ulm (the group was moved from MUV to Ulm) to complete her PhD on wet chemical etching of semiconductor surfaces. Her research work focused mainly on scanning probe microscopy and in situ electrochemistry.
From 1993 – 1999 Ruth worked as a Post Doc Researcher at Saarland University and supported the Commission for College Development in Saarland (Fachhochschulentwicklung). During this period, her work focused mainly on scanning probe microscopy such as STM, AFM, SNOM at low and high temperatures and at ambient and ultrahigh vacuum, e-beam lithography among and surface science analytical tools. She has used commercially available scanning probe microscopes, has modified commercially available ones, and has build equipment whenever necessary to investigate the reactions and interactions of electrons with clusters and other materials. Works were mainly carried out in the fields of single-electron tunnelling using ligand-stabilized clusters for molecular electronics devices and nanolithography. Ruth's works were strongly committed to tools and wave-matter interaction (comment: at that time "wave" was electrons, now it is light).
California and cultural differences
In 1999, Ruth was invited by a former colleague to join Sandia National Laboratories in California (US) to help build an in situ electrochemical scanning probe microscope to investigate reactions on gold and other material surfaces.
Despite having a four-year-old-son and the fact that her husband preferred to stay in Germany, Ruth accepted the offer and moved to live and work in California as a single parent for 13 months.
Ruth considers her time in California as one of the best experiences of her life. As she says:
"I really loved California and I still do; it was so easy to live as a single mom and to have a career. The attitude of the people was so much more advanced than Germany where bosses were and still are reluctant to hire women because they expect them to get pregnant. In California it was accepted that a woman could be both a mother and have a career in science".
The other major cultural difference was the high level of expectation in the US: everything and everyone needed to be the best. At Sandia Laboratories, Ruth could buy the best equipment regardless of price, while in Germany, expectations were also high, but people are not really encouraged and allowed to make decisions on budgets. This leads to unnecessary constraints and slows down innovation significantly. (And that is what I do completely different in Multiphoton Optics).
These values remained with Ruth throughout her career and she has since always been very demanding - seeking out the best trained and motivated professionals for her teams and creating an atmosphere to encourage initiative and maximum personal development. She has also always encouraged her female and male team members to be assertive of their right to have a family and a career in science.
Fraunhofer Institute for Silicate Research
Despite the offer of a fulltime position with Sandia National Laboratories in California, in 2000, Ruth decided, mainly for family reasons, to return to Germany to work as researcher for the Fraunhofer Institute for Silicate Research (Fraunhofer ISC), a leading R&D centre for material-based research and development in the fields of energy, environment and health.
For the next 13 years, Ruth occupied a number of positions including Head of the Competence Unit for Hybrid Polymers and Materials for Microsystems and Micromedicine and in 2011, she became Head of the Competence Unit for Optics & Electronics with responsibility for the development of green photonics.
Her final post with Fraunhofer was as Senior Manager Photonics, which she held until 2014, with responsibility for technologies for optical packaging, enabling 3D and the development of tailored materials with special optical properties. Throughout her career as manager in Fraunhofer ISC, she has built teams and strong expertise in 3D lithography and light-matter interaction to create optical waveguides in PCB and on wafer-scale with the lowest number of processes possible and multifunctional material called the "n in 1" approach at that time.
Awards
During her time with the Fraunhofer Institute and Multiphoton Optics, Ruth invented more than 120 patents. Among many awards she received, she received the "Stifterverbandspreis" (area of materials and processes for waveguide optics and electronics) in 2002. In 2007, she received the Joseph von Fraunhofer Award for inventing a viable process solution for coupling waveguides directly to pre-assembled components in printed circuit boards. This was followed in 2013, by the Green Photonics Award in 2013 from SPIE for a procedure that simplifies the fabrication of optical interconnects, resulting in both environmental and energy-saving benefits. In 2014, she received the COWIN Award for Entrepreneurship, followed by many different nominations and awards for her startup company, Multiphoton Optics GmbH. In 2015 and 2017, Multiphoton Optics was finalist in the Prism Awards. In 2018, Multiphoton Optics has received the Best of Industry Award in the Category Additive Manufacturing, and in 2019 the company was nominated and has entered the finals in the TCT Award and the "Großer Preis des Mittelstandes". In 2019, Ruth has been distinguished as SPIE Fellow for her works in materials, 3D lithography, processes, and light-matter interaction.
Multiphoton Optics
Planning for Multiphoton began already in 2007, because there was no company willing and capable of building a modular equipment which can use any material, and which provides industrially relevant and scalable processes and throughput. Already beginning in 2004, she and her team started to work on industry projects in 3D lithography. From 2007 to 2011 she used part of her time at Fraunhofer to evaluate the technology for high throughput and scaling in terms of structure sizes, area, and processes. Already in 2009, she was able to demonstrate a 2 cm high Statue of Liberty with this technology as part of a tissue engineering project which was acknowledged by SPIE in 2015. In 2011, she started the process of spinning out a company, and in 2012 an internal Fraunhofer project was set up to address emerging customer demand for various prototyping and engineering services related to high-resolution 3D printing processes and to finalize the business plan.
Other than originally planned due to the fact that no company was accepting the challenge to supply a machine for B2B, the idea of the company had to become a manufacturer of machines first to provide a high-precision, 3D printing platform for the fabrication of miniaturized designs in automated, scalable processes from the submicron up to the cm scale with no limitations in substrate formats and kinds.
Processes would allow the easy integration of various PIC platforms (Silicon Photonics, TriPlex, Indium Phosphide) by just passive alignment and facilitate real 3D techniques for creating high resolution structures with high quality surfaces, industrial scale throughput and a unique degree of freedom of structure generation.
Today, Multiphoton Optics develops High Precision 3D Printing Equipment and offers prototyping, engineering, and consulting services for the manufacturing of 3D photonic components from Lot 1 via small series to volume production, and integration of the printer and its processes into productive environments. The services feature scaling of designs, formats, and processes. 3D structure fabrication is offered with adjustable precision and with no stitching w/o loosing structural details, offering a high surface finish, industrial scale throughput, high resolution, a minimum number of processes to significantly reduce the use of resources, production cost, and time to market. The company is dedicated to supply automated processes that support its customers in photonics and medical packaging. Target markets include computing systems, sensors, AR/VR, illumination and imaging as well as medical markets.
Finding investment and making Europe a leading place for photonics manufacturing
Unlike most photonics start-ups, investment was not hard to come by. In fact, before the seed round was finalized, Ruth was offered €15m to sell the company there and then. But as she says:
"It's never been about the money: throughout my career and from an early age, I've wanted to change the world and make a difference. With Multiphoton, we have the chance to demonstrate that one can start and build a company on trust with a mindset which is strongly different from the typical German mindsets "careful, nay-saying, and other slowing down attitudes" without forgetting our roots, and to be successful as a company. We will make a real difference in photonics and for environment. We are gathering companies around us who are willing to take the chance and the risk to show that Europe will be a leading place for optics manufacturing, not only for components, but also for end-products. Interested companies should contact us to become part of this already on-going initiative."
Company growth
Over the past 5 years Multiphoton has expanded its portfolio of services and equipment and now provides in-house 3D printing services as well as selling machines to customers who like to do production in their facilities. The company now has a workforce of 17, and the company has closed its Series B funding in March 2019. Services are offered worldwide to create novel products with a degree of freedom for Multiphoton Optics' customers.
Challenges
But it hasn't all been plain sailing. One of the main challenges has been building the team. As Ruth says:
"Building a team from scratch which has the mindset necessary to make the difference has been sometimes frustrating, and one of the hardest things I've had to do: finding people with the right technical and mindset skills and the potential for training has been difficult. Some people turned out not to be as useful as I thought they would be and I started to question my gut instinct. The problem is that in a small company it's easy to see if someone is not up to the mark and for the first time, I've had to fire people".
The future
Ruth is optimistic about the future and confident of Multiphoton's continued growth due to the company's expanding customer base and the projected increase in demand for photonics components such as PICs, VCSEL based applications and freeform micro-optics among others.
The importance of software: However, for Ruth, of more importance is her company's approach to 3D printing, which sees the 3D printing community as standing on 5 pillars: software, hardware, materials, processes, and applications. Multiphoton was conceived as a company capable of integrating these 5 pillars and in comparison with its competitors places considerably more emphasis on software based on the company's profound understanding in materials and light-matter interaction. Ruth believes that this unique approach will better enable her customers to understand and cope with future technology challenges.
Mass production in Europe: In addition to her role as CEO, Ruth is a Senator of Economy for Europe, a position established by the European Economic Senate (EES) - an independent body of enterprises and individuals that was founded in 2003 to promote European business interests.
In her position of Senator, Ruth is currently defining applications suitable for mass production in Europe, and as she points out:
"The photonics industry is worth more than €250 billion and from a cost and output perspective, there is no reason for mass production to remain in Asia. It's not just about money and profits; it's also about the development of European society. For this reason, we are trying, with our European partners, to build a massive production line here in Europe".
What would you do differently if you could start again?
"In my case, there have been two occasions when I could have made a different decision. The first was my decision to return to Germany in 2000. If I'd chosen to stay in California, I would have had other great opportunities and maybe now I'd be a very highly paid manager in Silicon Valley, but I wouldn't have Multiphoton Optics".
"The second relates to the time it took to start the company. It's true, I could have started earlier, but if I'd started in say, 2007/8, I wouldn't have gained either the industrial experience or the clients that were an integral part in establishing Multiphoton Optics".
"In retrospect, I have no regrets about the indecisions I've made, because I now have the highest degrees of freedom to choose what I do with a great team of engineers and investors."
What words of wisdom do you have for future entrepreneurs?
Your career: "Don't think about a career in terms of rising up the promotional ladder: a career is what happens to you while you peruse your dreams of changing the world and making a difference. A career should not be money-driven".
Family: "Your family should be as equally important as your career, and true success can only be achieved when the two are integrated".
Building teams: "The most important part of my professional life has been the teams I've created. Always invest time and effort into recruiting and educating the best professionals with the initiative and motivation to drive the company forward. "
Freedom to choose: "Of course, money and your career are important, but for me what's always been more important is the freedom to walk away from toxic people and situations that have made me unhappy. If your career is based on money, you will never be free. Freedom is the highest good people need to develop".
Written by Jose Pozo, Director of Technology and Innovation, EPIC