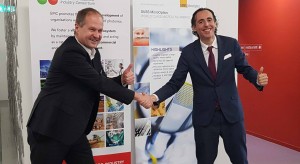 In this interview, Jose Pozo, EPIC's CTO talks to Reinhard Völkel, CEO of SUSS MicroOptics a Swiss producer of high-quality refractive and diffractive micro-optics for fibre coupling, collimation and beam homogenizing.
Early career
In 1994, Reinhard graduated the University of Erlangen-Nuremberg with a PhD in Physics, which had focused on holographic optical elements, optical interconnections and optical GBit backplanes for Telecom.
As he recalls, the early 90s were the tail end of a dream that the electronic computer had run its course and that faster processing speeds could only be achieved with optical computers. As a result, a lot of research had focused on optical interconnects and optical backplanes.
But it didn't quite turn out this way and on finishing his PHD in 1994, Reinhard found himself without a job. Undeterred, he pursued his passion for photography and received enough bookings to see him through the next 6 months. In fact, he would probably have gone on to be professional photographer had in not been for a chance encounter with Prof. Hans Peter Herzig and Prof. René Dändliker, who offered Reinhard a job at the Institute of Microtechnology, University of Neuchatel, Switzerland.
For the next 5 years he worked on micro-optics for biosensors, optical interconnects, photolithography systems, miniaturized imaging and camera systems. His time in Neuchatel was life-changing not only because it enabled Reinhard to perfect the technology, he would later exploit with SUSS MicroOptics, but because he came under the influence of a number of mentors who would guide and inspire him to success.
As someone who lives life to the fullest and who can be easily distracted by life's pleasures, Reinhard readily confesses that in his early career, he looked for mentors: "Wise people who genuinely like you, who have your interests at heart and who can challenge inspire you to get out of bed in the morning and reach the next level".
An important influence in the early days was William Bell Hugle, one of Silicon Valley's early semiconductor pioneers and a cofounder of SEMI, who had retired in Switzerland in the late 80s. Reinhard met Bill Hugle while doing research at IMT Neuchatel for Hugle Lithography: "He took me by the hand and said okay, so this is the real world and all the time I spent with him was incredibly inspiring".
SUSS MicroOptics
In 1999, due to bad health, Bill Hugle sold the IP for microlens projection lithography (MPL) to SUSS MicroTec, who, at the initiative of their CEO, Franz Richter, wanted to use the technology to do something innovative and disruptive with low resolution lithography. To achieve this, micro-optics would be a key element, and as it wasn't available in the market, Reinhard and two colleagues were invited to be part of joint venture subsidiary to provide the technology.
And so, in 1999, SUSS MicroOptics was born. As Reinhard recalls, it was initially a challenge because the 4-inch wafer they had developed at university had to be reconfigured to 8-inch fab at a much higher quality but as Reinhard admits, it was a perfect start-up: SUSS MicroTec was their partner, sponsor, venture capitalist, customer and equipment supplier and all they had to do was focus on the technology. It took 2 years before they were able to manufacture by which time, they had grown to seven people with a €1m turnover from a few pilot customers who had been interested in obtaining high quality micro-optics.
Company growth Carl Zeiss SMT
In the early 2000s, despite the collapse of the telecom market, demand for high quality micro- optics was starting to increase. In particular, Carl Zeiss SMT began to place orders for refractive and diffractive optics for their steppers and by 2005, SUSS MicroOptics had been nominated as one of Zeiss's preferred suppliers with Zeiss accounting for 75% of their revenue.
Getting and keeping Zeiss as a pilot customer was extremely important and for Reinhard reflects the interplay of two factors: the maturity of the technology and the professional and commercial relationships among European optics community. As he says: "We started developing the technology at university so by the time we started supplying Zeiss, the technology was already mature. Additionally, half of the principal scientists, fellows and senior scientists at Zeiss were former colleagues of ours - it was a sort of young boys' network".
Following the financial crash in 2008 and the consequent downturn in the semiconductor market, revenues dropped by 50% to around €3m. Fortunately, they didn't have to make any redundancies and since then, the company has seen steady and sustainable growth to a current workforce of 100 and a turnover in excess of €24m.
Reinhard puts their success down to 2 main factors: First, the reason they've been able to break into so many new markets with new products is the result of the explosion of light sources and related applications. As he modestly explains, every light source needs light shaping and every fibre needs a fibre coupling: "It's not that we were something special - the world around us has changed so much and it's moved in our direction so that the products we sell have become extremely popular".
Second, SUSS MicroOptics has avoided the temptation to grow too fast, which has led to the demise of several of their competitors. Instead, like many other medium sized Swiss companies, they have followed the path of steady, sustainable and realistic growth with a focus on investing in excellence.
Challenges for micro-optics
In February 2019, SUSS MicroOptics set up an Imprint Excellence Centre for the manufacturing of wafer-level optics. The aim was to use a new generation of SUSS MicroTec's manufacturing equipment to prove the pilot production and thus the possibility of volume production of high-quality freeform micro-optics for applications such as microlens arrays for automotive, sensors and cameras.
For Reinhard, this R&D project underlies 2 interrelated challenges facing the photonics industry:
Lack of maturity: For instance, while micro wafer-level optics together with new light sources can provide innovative solutions for automotive lighting, the current technology is not mature enough for a rapid scale up. One of the main impediments is the fact that photonics is still based on serial processing: for example, lenses are polished singly and then placed in sequence in a holder and even mobile phone cameras comprise a collection of pieces that are put in position by a robot.
In contrast, wafer-level electronics and the silicon industry in general employ highly parallel processing, which has enabled the industry to grow at a phenomenal rate, e.g. the capacity of the micro stick has increased from 128 Mega in 2005 to 512 Giga today for the same price.
If photonics is to emulate the spectacular success of the semiconductor industry, it needs to use parallel processing and transition from being in an immature, pre-industrial lab state to a fully industrialized technology.
The need for standards: But to build a strong, mature photonics industry, European equipment manufacturers, component and material suppliers need to agree standards like the semiconductor industry did in the 1970s. For Reinhard, an individual approach to equipment and component manufacture may bring short term gains to a particular company, but it's bad for the industry as a whole because if the company goes bust, there will be a massive hole in the supply chain. As Bill Hugle once said: 'It's better to have a small part of a big thing than a big thing of nothing'
Reinhard believes that photonics can become a big thing in Europe, provided trade associations like EPIC continue in their crucial role of bringing the big players together to open the platform for agreement on standards and a shared approach to the technology and infrastructure.
The future of manufacturing in Europe
Although Europe is still strong in machine manufacture, Asia is catching up. However, Reinhard remains optimistic because he sees the increasing demand for individualised consumer products from the growing middle class as Europe's salvation. As he argues, every expensive car today is unique with many individual features and while China may be strong on standardised manufacture, it is not as adept as Europe at providing unique products for high-end solutions.
The future
SUSS MicroOptics will continue in its R&D mission via its SUSS Imprint Excellence Center to help bring the whole micro optics manufacturing imprint to 2.0, i.e. from a lab state to a fully industrialized state.
As for markets, for the moment, SUSS MicroOptics will continue to stay away from the consumer market and focus instead on niche markets that require quality products with high pixel volumes that are difficult to manufacture. "If everybody can do it, we're not interested - it's not what we do in Switzerland".
Regarding technology, Reinhard sees optical data centres and optical fibre connects for telecom as important drivers for their industry. But as he points out, whatever the drivers may be, the company will continue to follow the light sources, as it always has done: "Every future light source, whether fibre lasers or LED will find its application and will need photonics around it to function".
What would you do differently if you started again?
"We could have grown faster, but then we might have disappeared. Sometimes you're too slow with the market exploding around you but in our case, I think we got it just about right - prioritising realistic growth and investing in quality and excellence".
"Many companies fail because of internal conflict, making it difficult or even impossible for people and teams to work together. I think that maybe I underestimated these types of problems and if started again, I'd pay more attention to taking care of the internal balance of the teams".
What are your words of wisdom for the next generation of entrepreneurs?
"1. Find good mentors – people who are older and wiser than you and who can challenge you when you're not performing and take you to the next level".
"2. Spend your money wisely: we've never built a building and we've never had a secretary in the company. Invest your money in excellence, particularly in excellent machinery".
"3. Follow Simon Sinec's 'Golden Circle' advice: know why your products or services are better than the competition and why customers pay you for what you do"
Written by Jose Pozo, Director of Technology and Innovation at EPIC (European Photonics Industry Consortium)