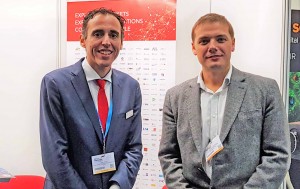 Following a master's degree in physics from Southampton University, including research on lasing liquid crystals, Damian graduated with a PhD in Engineering from the University of Cambridge in 2006. The focus of his research was on frequency-addressable, multi-stable electro-optical materials for applications ranging from ultra-low power displays to high-efficiency architectural glass.
Research
After a brief period as an Integration Engineer for Cambridge Display Technology working on polymer LEDs and solar cells, Damian began a 5 year period as a research associate on three Industrial collaboration projects at Cambridge (at the Centre for Molecular Materials for Photonics and Electronics, CMMPE led by Professor Harry Coles). The first was a project on hybrid electroluminescent-liquid crystal devices for low power and enhanced visibility in direct sunlight; and the second, a project funded by LG Display to develop an ultra-fast switching LCD technology using a new electro-optical material he co-invented, and the third, for COSMOS Technology Translation (TT), on a low cost, miniature, tuneable organic laser based on liquid crystal materials.
Ilumink
In 2013, following post-doctoral work in CMMPE at Cambridge University, Damian received a prestigious Royal Academy of Engineering Enterprise Fellowship to commercialise his research in printable liquid crystal materials. The result was Ilumink Limited, set up by Damian and his research colleagues as a spin-off from Cambridge University to commercialise their breakthrough in printable lasers to create new physical authentication and anti-counterfeiting technologies.
As Damian says: "The Enterprise Fellowship was really useful as it enabled us to concentrate 100% on commercialising our research and giving our work real-world impact".
But things didn't turn out as expected: "This was a valuable learning experience because engaging with the real market dispelled all of our preconceptions about the commercial application of our research. For us, what was initially exciting was to be able to ink jet print liquid crystal laser materials, but what our customers wanted was something simpler: the ability to digitally print optically variable features that were unique each time they were printed".
In 2015, ilumink was acquired by Tracerco Ltd, the diagnostic services arm of Johnson Matthey specialising in 'in- product' identification (adding taggants to a liquid or material). They were interested in ilumink because they wanted to develop on-product identification, e.g. putting security features that were easy to identify without the need for sophisticated equipment. For ilumink, the acquisition made sense because Tracerco had already established routes to market. Moreover, there were specific challenges raising investment for authentication technology and through Johnson Matthey, Tracerco had access to the capital that would be required to develop the technology.
Optomel
As part of the acquisition deal, Damian remained with the new company for three years as Research Scientist and then Business Development Manager. Then in 2018, he decided to move back to Southampton, and dedicated facilities on the University of Southampton Science Park, to create Optomel - a new start-up to produce novel types of optical filters for laser protection, consumer electronics and industrial application products.
Optomel's technology is based on the self-organisation ability of liquid crystal materials to create new approaches to optical filters, a development that was readily embraced by early customers, including leading consumer electronics brands and the UK's Defence and Security Accelerator (DASA) and DSTL (part of the Ministry of Defence). For Damian, this initial customer funding was crucial as it was evidence of market demand for what Optomel was producing that would be crucial to attract future investment and customers.
The technology
Unlike conventional 'interference' filters that require encapsulating glass and physical vapour deposition (PVD) in a vacuum environment, taking many hours to produce small filters, Optomel employs a chemical printing process using polymer & flexible substrates to produce ultra-thin (< 1 mm) filters. This technology enables Optomel to produce customised, finely controlled filters that are easy to scale and significantly more cost-effective than conventional filters. The technology fills the gap between cheap, imprecise absorbing filters and high-end interference filters making them very attractive for applications requiring high precision at mass production levels.
Applications
Optomel is focussing on three main markets:
Laser protection for eyes and sensors: The proliferation of cheap, high power laser pointers poses a serious risk in military and aerospace. There is also a need to protect crucial electro-optic sensors from powerful laser sources.
Precision filter technology: there is increasing demand for customised solutions in industrial applications that rely on optical technologies, including machine vision, sorting applications, security, multi-spectral imaging and spectroscopy
Augmented reality: To give wearers of augmented reality (AR) head-mounted displays acceptable image contrast across a wide range of lighting conditions, from dark indoor scenes to bright daylight conditions. This has not yet been cost-effectively achieved with current technology.
The future
Damian is confident of growing demand for Optomel's technology and the fact that the technology is akin to a print process with low capital requirements means that volume production can be easily achieved in the UK or Europe without the need to subcontract to companies in Asia.
Additionally, one of his main priorities over the next few months is to continue to build the team able to provide the right business, market and technical know-how to help drive the company forward.
What would you have done differently?
"I wish I'd taken the plunge earlier and started high-technology businesses earlier in my career – perhaps after finishing my PhD. To early stage career scientists and engineers, I really think the start-up route is a great third career option between traditional academia and industry.".
What advice do you have for future entrepreneurs?
"Avoid preconceptions: whatever technology you're involved in, it's important to get out of the lab and start talking to people as soon as possible. Engage with the market early on to know what customers need and make them part of your development right from the start."
"Build a good team: it's got to be a team effort: you need a well-rounded team around you, including non executives to provide the right type of legal, business and technical advice."
"Commercialize your own technology to give real world impact: while publishing papers on groundbreaking work may be important from an academic perspective, it's often necessary for inventors to be directly involved in commercialising their inventions and to become entrepreneurs to drive real change."
"Try to obtain customer funded projects as soon as possible: although it's important to have a vision for what you want to achieve, it's essential to obtain early validation of your idea. Customer funding provides valuable evidence of market demand for what you're producing and help you to secure future investment. Grant and project funding are useful but you must be careful not to pursue this for its own sake and lose sight of the objective".
Written by Jose Pozo, Director of Technology and Innovation, EPIC