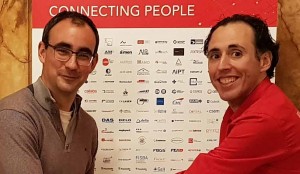 In this interview, EPIC's CTO Jose Pozo talks to Prof. Pascual Muñoz, Founder, Chairman and former CEO of VLC Photonics.
After graduating in 1998 with an M.Sc. in Telecommunication Engineering from Universitat Politècnica de València (UPV), Pascual began a PhD on reference models for the design and modelling of integrated optics arrayed waveguide grating (AWG) devices. These devices are capable of multiplexing a large number of wavelengths into a single optical fibre, thereby considerably increasing the transmission capacity of optical networks.
After his PhD in 2004, he moved to Technische Universiteit Eindhoven (TUe) to take up a postdoc research position, under the guidance of Professor Meint Smit, on the design of AWG-based application specific photonic integrated circuits (PICs) for ultra-short pulses processing.
Fortuitously, this move coincided with the creation of ePIXnet (European Network of Excellence on Photonic Integrated Components and Circuits) which was set up in 2004 with the aim of moving from a model of independent to integrated research involving industry and academic partners. The idea was to enable the shared use of expensive technological infrastructure and create open access integrated technology platforms based on indium phosphide and silicon technology compatible with mature CMOS technology.
As Pascual recalls, "Eindohven was really exciting because it's where I first met one of my business partners and got in touch with the technology, particularly indium phosphide (InP) (a semiconducting material similar to GaAs and silicon) and the value of creating generic platforms for the technology. 2004 was really the beginning of the PIC boom and most of what we know today started back then"
Between 2002 and 2006 Pascual received several awards including the VPI Speed Up Photonics Award for innovative Fourier optics AWG with multimode interference (MMI) couplers modelling; a fellowship on the IEEE/ Lasers & Electro-Optics Society (LEOS) Graduate Student Program; and the extraordinary doctorate prize from UPV in 2006.
In 2005, Pascual moved back to the UPV where he was appointed Associate Professor to lead research lines on photonic integrated circuits and also became coordinator of ePIXnet's research group on InP AWG based devices to develop multi-wavelength lasers for optical burst/packet switched networks. His aim was to do something new and to this end he started to design and test application- specific PICs based on a variety of platforms according to the required functionality of the PICs.
VLC Photonics
Pascual's research made him aware of two main problems faced by research institutions and companies in using PICs - they frequently couldn't afford to use established foundries and/or they did not have the sufficient expertise or experience to design application specific PICs. As a result, in 2011, Pascual and three other research colleagues (Jan Hendrik den Besten, José David Domenech and José Capmany) founded VLC Photonics with Pascual as CEO. The aim was to provide PIC design services based on customers' technical specifications for target platforms of the main photonic materials, e.g. silicon-on-insulator, indium phosphide, silica on silicon and silicon nitride.
The company was initially set up a as a design house, but customers soon began to ask for help in managing other parts of the supply chain. This caused VLC to expand its portfolio of services to provide solutions for the whole optical integration process, from initial concept evaluation to circuit layout, prototyping and testing of the chip. In this way, VLC began to a transformation into a fully-fledged photonic integration company providing advice and support in a range of areas including initial technical feasibility of projects; outsourcing manufacture through its foundry network; developing process design kits (PDKs); packaging through its external network of partners; and in-house characterization and testing. The company now also provides business services in areas such as cost estimation and intellectual property issues.
Company growth
Since 2011, VLC has increased its work force from 2 to 15 and in the last 4 years, its volume of business has grown by 1,200% with revenues now close to €2M. But perhaps the best testimony to the company's success is that VLC recently won the 2019 PIC Award in the "Best achievement in PIC development" category. This award is particularly noteworthy as VLC was competing with companies like Ciena and Intel, and the award was decided by a vote of around 600 companies in the photonics sector. As Pascual says: "We've been working in the sector for a long time and it's great to have received recognition of the work we have put in from the ecosystem".
Reasons for success
Pascual puts VLC's success down to the following factors:
Unrelenting marketing: As Pascual recalls, applying the design house business model to a relatively immature technology like PICs was initially very difficult. As he says: "I remember going to our first Photonics West and people would ask us ' What's a PIC?'. In the beginning we felt like evangelicals preaching the message of a new technology and we spent the first three years trying to get people to understand what the technology could do". In fact, in the early years, most of their income was spent on marketing and they decided early on to have a permanent presence at marketing events and congress even when they could not really afford it. This strategy has paid off as VLC is now a world renowned company.
Low levels of indebtedness: Since 2011, VLC's growth has been organic because from the outset, Pascual wanted to avoid the problems he had seen with many startups - seeking too much investment too early. For this reason, the VLC founders used their own capital as seed money on which they secured relatively small loans. They were also keen to avoid participating in European projects that meant being tied to a particular technology or area of development. For this reason, they have participated in projects where they see an opportunity to increase business.
Professional management: While Pascual initially took on the role of CEO and lead entrepreneur, they always had it very clear that the company would need a professional CEO to grow the company. As a result, in 2013, the marketing director was promoted to CEO and Pascual stayed as a member of VLC's board of directors where his role has since been to help steer the company and make strategic decisions for future development.
Recruitment: A major advantage of VLC's association with the Universitat Politècnica de València is that they have been able to offer employment to highly trained PhD and Masters' research students, something which many other startups are unable to do.
Academic research
Since moving to VLC's board of directors, Pascual has had more time to pursue his research interests. In 2017 he was appointed a full Professor at the UPV where he has since led the Photonic IC group - Photonic Research Labs on research into fabless photonic integration, silicon nitride technologies from visible to mid infrared and advanced full-field on-chip test and validation engines.
More recently, he has become interested in microfabrication and the creation of new integration technologies which will be developed in a new clean room at the UPV, UPVfab (www.fab.upv.es). The idea is to create new passive platforms based on hybridizing technologies that will require new types of lasers and detectors and assembly techniques.
What would you have done differently?
"I now recognise that there are many ways of working - not just one. I don't think I would have been able to appreciate this when I first started but I now think we need more breadth - both generally and on a daily basis. I also think that maybe I should have done things in a more human way in the sense of not pushing myself and others so hard".
What advice do you have for the next generation of entrepreneurs?
"When you start with a new technology it takes a long time to build up interest, market it and create the right team - so you need to start early, however immature the technology is".
"Secondly, when thinking about your team don't necessarily recruit business and marketing specialists: think more about bringing in people with a good knowledge of the technology and who are open minded and able to learn the required business and marketing skills".
"Third, believe in your ability to pursue your passions. Keep questioning yourself and develop the confidence to think positively about what you can achieve".
Written by Jose Pozo, Director of Technology and Innovation, EPIC