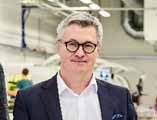 In this article, Jose Pozo, EPIC's CTO talks to Dr. Johann Weinhaendler, Managing Director of ASM AMICRA Microtechnologies, a leading global supplier of ultra-high precision die attach equipment for the opto-electronics and silicon photonics markets.
Early career
After completing a first degree in electronic engineering at the DAG institute in Germany in 1992, Johann started his career as an engineer with Hitachi semiconductors and then as a field engineer for Lam Research, a company involved in the design and manufacture of semiconductor processing equipment.
During his time at Lam Research, Johann developed a keen interest in the commercial side of operations, particularly in global sales and marketing strategies, and in 1997, he moved to Datacon Austria to work as their sales & business development manager. At that time, Datacon was a small company with 50 people engaged in the manufacture of semiconductor assembly equipment for the global semiconductor and electronics industries.
While he found the work stimulating, Johann quickly realized that to reach the top he would need a deeper knowledge of business processes. Accordingly, in 2000, he enrolled on an MBA course via The Open University that incorporated a PhD in Economics, which he successfully completed at Trinity College, Dublin in 2006.
Over the seven years he spent at Datacon/Besi, Johann gained a reputation for internationalizing the company by attracting international clients, pushing growth to around 50% a year and making Datacon internationally renowned in the semicon market. However, always with an eye for a challenge, in 2005, he accepted an offer from Oerlikon - a leading provider of advanced surface solutions and materials processing – to work as their Global Account Manager for PVD and Etching systems.
AMICRA microtechnologies
In 2009, Johann became Managing Director of AMICRA microtechnologies GmbH. However, his involvement with the company had started several years earlier when in 2001, he met Horst Lapsien and Rudolf Kaiser, the two founders of AMICRA Microtechnologies, at a trade fair. AMICRA had just started to develop high precision die attach systems and Horst made an offer for Johann to join the company and take care about the sales, marketing and business development for AMICRA.
Although he turned down the offer, principally because of his good position with Datacon, over the next few years Johann followed AMICRA's progress with interest, kept in contact and did what he could to support the company. Towards the end of his time with Oerlikon, Johann and some other interested parties were invited to buy some shares in AMICRA and to cut a long story short, the principal investors were only willing to go ahead with the deal if Johann came on board as Managing Director.
So, in 2009, Johann became MD of AMICRA, tasked with the mission of repeating his previous success with Datacon/Besi and Oerlikon and to make AMICRA a successful global company. And this is exactly what he did: in 8 years he took AMICRA from relative obscurity to become a world leader in photonics manufacturing.
Initially, Johann's role was to focus on sales and marketing. He had a new logo designed and started to attend all the major exhibitions and trade fairs, first in Europe and then worldwide. They also realigned their product strategy to achieve more dedicated products for the photonics market and began to set up meetings with strategic customers like Intel, Luxtera and Mellanox. They continually acquired more new customers and by 2011, AMICRA had become a market leader in silicon photonics and by 2014, the global market leader in datacom transceivers. From then on, the company developed into a supplier of high-precision die bonders for the advanced packaging and photonics assembly market and grew to a workforce of 130, with sales and tech support offices worldwide.
Buyout by ASM PT
In 2016, AMICRA began to look for a strategic partner to consolidate and develop their global position. Their number one target was ASM Pacific Technology, a Singapore based company involved in the manufacture of machines and tools used in semiconductor and electronics assembly industries. Johann had known some of the ASM´s Senior manage team since his time at Datacon/Besi. They had a good feeling and the companies were mutually compatible as ASM had a product line in photonics and saw the future potential in the photonics market as well. In 2018, AMICRA was sold to ASM PT and the company was renamed ASM AMICRA Microtechnologies.
A groundbreaking event for the photonics community
It is worth noting that while nowadays, most big semicon companies are combining photonics technology, e.g., VCSELs, silicon photonics and micro LED solutions, this was one of the first examples of a big semicon player incorporating photonics into their product line. Perhaps more importantly, it was also one of the first instances of a big semicon player accepting the feasibility of photonics entering high volume production. As an example, one of ASM AMICRA's silicon photonics customers – one of the largest ADMs in the world – is using their machines for volume production of indium phosphide on silicon.
ASM AMICRA Microtechnologies
Today, ASM AMICRA Microtechnologies is a worldwide leading supplier of ultra-high precision proprietary and custom equipment for die attach and flip chip bonding, and high speed dispense systems with a focus on silicon photonics and other markets such as opto-electronics, AOC, and VCSELs among others.
Silicon photonics
Photonics makes up around 80% of ASM AMICRA's business of which 50% is dedicated to silicon photonics. For Johann, ASM AMICRA's dominance of the silicon photonics market is down to the following factors:
Passive alignment: Passive alignment provided by ASM AMICRA is the only feasible option for the high-volume packaging of photonic devices as it is far cheaper and quicker than active alignment, which has to be done individually.
Accuracy: ASM AMICRA's die placements of silicon photonics have a submicron placement accuracy of ±0.3µm providing consistent, repeatable reliability. Although an accuracy of 0.3µm is a stable process for most applications, the company is seeing a big demand for 0.2µm accuracy, mainly from new markets like augmented reality applications.
Processing time: In parallel with the demand for greater placement accuracy is a push for faster processing time, which again is coming mainly from new markets like augmented reality.
In order to meet growing demand for smaller, faster and more accurate packaging, in 2019, ASM AMICRA launched a new CoS (Chip-on-Submount) die-bonder, which won the 2019 Productronica Innovation Award. The new machine combines the company's dynamic alignment system with new handling technologies and compared to the industry average, has significantly shorter cycle times of 6 seconds. It also provides a massive increase in productivity and an accuracy of ±3 µm @ 3 sigma, which represents a new industry standard in accuracy and productivity.
This advanced packaging technology is very good news for the photonics community, not only because of performance but because it forms the basis for a range of new applications including 5G data transmission, 3D sensors, augmented reality, lidar applications, as well as industrial and medical laser applications.
Micro-optics: In terms of silicon photonics integration, the photonics community is concerned with the integration of three main types of components: the light source (in ASM AMICRA's case, mainly VCELs), the detector and micro-optics. In recent years, there has been growing demand for new concepts in the packaging of wafer level micro optics for silicon photonics and companies like SUSS micro-optics are producing high-end micro optics in very high volumes at low cost. Fortunately, ASM AMICRA's equipment enables very accurate pick-and-place of micro-optics and thus, the company is well placed to exploit applications using micro-optics such as transceivers and 3D, environmental and infrared sensing.
The future
For Johann, the big markets in future will be 5G, HPC and augmented reality. They are already working with most of the big players particularly those involved with projectors that need Lasers to be placed in the one 1-micron range or even better. While also the micro-display market is undoubtedly a huge opportunity for Europe, in the past, Europe has been unable to exploit this type of high-volume market because photonics companies have not been ready to go with the semicon companies. Fortunately, as ASM AMICRA are demonstrating, this is changing and with companies like OSRAM, there is an opportunity to build a strong supply chain for micro LEDs in Europe.
If you started again what would you do differently?
"To be honest, not much. I think I've mostly followed the right track. Maybe I could have studied business a bit earlier. On the other hand, my interest in economics and business evolved over 8 years working as an engineer, so it's difficult to see how I could have been motivated to study business earlier".
What words of wisdom do you have for the next generation of managing directors?
"First, to get to into top management of global high-tech companies you need at least a technical degree and a good working knowledge of the technology and you also need to become well qualified in economics and company business procedures. Second, in order to advance your career, make sure that each new position gives you the opportunity to demonstrate your ability to make a real difference and grow the company".
Written by Jose Pozo, Director of Technology and Innovation at EPIC (European Photonics Industry Consortium)