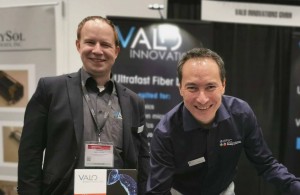 In this interviews, Jose Pozo, EPIC's CTO, talks to Oliver Prochnow, CEO of VALO Innovations, a leader in the development and manufacture of unique ultra-fast, sub 50 fs, fibre laser systems.
Early research
After studying Physics at the Leibniz University of Hannover, Oliver did his diploma thesis at the Laser Zentrum Hannover (LZH) on ultrafast fibre lasers and generating ultrashort pulses. Afterwards he did his PhD also at the LZH focussing on ultrafast fiber lasers, amplifiers and noise characteristics. For Oliver, his PhD was absolutely necessary, because he was able to learn not only everything about fiber laser technology, but also about managing and organising projects, which has since proved extremely useful.
Venteon Laser Technologies
In 2011 his first job was as Director of Research & Development at Venteon Laser Technologies, a young start-up company connected to the University of Hannover focused on ultrafast Ti:Sa lasers. He was Venteon's first employee responsible for the introduction of fiber technology to expand the company's product portfolio. One of the main plus points of working at Venteon was that as it was a small start-up company, which gave him an invaluable insight into the whole range of activities required for developing a company, namely, advertising, marketing, product development, manufacturing and research.
In 2014, Venteon was acquired by Laser Quantum and everything became larger-scale and more structured. Oliver started working as part of the Laser Quantum team on some products in Hannover, but three years later, Laser Quantum decided to move all the development from Hannover to the existing site in Konstanz to benefit from a single side.
VALO Innovations
After weighing up his options, Oliver felt it was a good opportunity to start something new. He founded a new company called VALO Innovations together with a former colleague without any kind of external funding. In the beginning, they established good collaboration with Laser Quantum.
The idea for the own company was to develop and manufacture unique ultrafast fiber laser systems with pulse durations below 50 fs. As Oliver explains, during his time at the LZH, he'd always thought it was possible to make more out of fiber lasers than was being done at the time. Back then, the idea was that nonlinearities and fibres were unattractive because of control problems, but Oliver believed that with the right idea nonlinearities could be used to obtain sub 50 fs pulses out of fiber lasers.
Developing the prototype
The first task was to explore the technology and show that the idea could work in the lab. They developed a prototype laser quite quickly and were able to demonstrate not only that it was possible to generate ultrashort pulses with pulse durations below 50 femtoseconds, but also that it allowed the unique possibility of energy scanning.
The next step was to visit all the companies in Hannover's laser manufacturing ecosystem infrastructure to learn from them and get advice on how potential customers could use their technology. As Oliver confirms: "If you are convinced by your technology and you see the advantages, it's easy to convince people that it's a good idea. But what matters is to find out what customers really need: Only a good physical idea will not lead to sales automatically".
VALO Innovations today
Over that past two years, VALO Innovations have developed the following turnkey products based on ultrafast femtosecond laser pulses combined with high average power enabling enormous peak power values:
The Aalto: This laser has a pulse duration below 40 fs and more than 250 mW of average output power at a perfect beam quality, which makes it ideal for multiphoton microscopy as using shorter pulses improves both imaging quality and results.
One of the challenges of a system with such short pulse durations as the Aalto offers is the problem of handling very short optical pulses in that it's difficult to get a very short pulse from your laser to your sample, caused by dispersion effects. To overcome this, VALO Innovations have implemented a dispersion compensation module in their lasers, which makes it very easy to get the highest peak power directly on the sample, thereby eliminating the dispersion problem.
The Tidal: This is an energy scaled version of the Aalto laser. It also offers a pulse duration below 40 fs and more than 3W of average output power at a very good beam quality, making it an ideal source for biophotonics and neuroscience/optogenetics.
Optogenetics is a very new field of biophotonics and is based on the use of light to activate or inhibit the signalling of neurons to enable the study the neural network of the brain. By using multiphoton excitation and faster scanning methods, a volume of neurons can be mapped.
For Oliver, the interesting point of optogenetics is that you can activate single neurons and see what happens. This requires the use of very short laser pulses to produce a high signal-to-noise ratio. You can also use two photon applications to provide information on depth inside the brain, which is not possible with linear microscopy.
Low noise seed laser: This is a very low noise seed laser which can be set to any wavelength between 1010 nm and 1090 nm. They are ideally suited for seeding different types of amplifiers, such as for example Yb-based amplifiers at 1030 nm or Nd-based amplifiers at 1064 nm.
The future
The technology: As previously mentioned in relation to the Aalto, there is a general misconception that short pulses are too complicated to control. But as Oliver argues, ultrashort pulses have a lot of advantages, namely, very high peak power and the high nonlinearity that can be achieved. Short pulses also provide an opportunity to increase the optical bandwidth and access to non-standard wavelengths, which is very interesting, especially for the semiconductor industry. For this reason, he believes that over the next few years, there will be a steady increase in demand for new products with shorter pulses.
Products: Oliver aims for VALO Innovations to become one of the key players in the market with their systems. To achieve this, they want to extend the wavelength range of their lasers. So they will be able to offer very short laser pulses at different wavelengths, e.g., down to 900 nm or up to 1200 nm. The idea is to have very small products that are good to handle, very robust in a range of wavelengths and at low cost - products that are not currently available.
They also want to get their standard products to higher energy and increase the range of energy. In this way, they can provide systems for a wider range of applications such as some micro material processing that require very short optical pulses.
Partners: As VALO is a small company with relatively little experience in volume manufacturing and production of products, to make faster growth a reality, they will need to collaborate with partners who can provide expertise in marketing and production.
If you could start again, what kind of things would you do differently?
"The biggest challenge in starting a company is that there's a lot of work to do, and there's not much time left to concentrate on your product. One of the things I'd do differently is to regularly review our activities to make sure we keep on track with our objectives and not waste time doing things which may seem good but are not actually helping us achieve our objectives".
What are your words of wisdom for the next generation of entrepreneurs?
"First, you have to believe in yourself and in your strengths. If you are convinced by the product, and it's aligned with real market needs, then it's sellable, so just go out and do it".
"Second, never lose sight of your goal: you have to have a vision for your company because you'll have a lot of work and you can easily get lost in the detail which can stress you without having the vison in mind".
"Third, it's important to have a very good network so you can talk to potential customers and partners. In this respect, EPIC was really the best choice for us because it's given us the opportunity to get in touch with people. It was amazing to see how many people offer advices or help to a young start up company – something completely unexpected, but absolutely great".
Photo: Oliver Prochnow (left) with Carlos Lee, EPIC CEO.
Written by Jose Pozo, Director of Technology and Innovation at EPIC (European Photonics Industry Consortium)